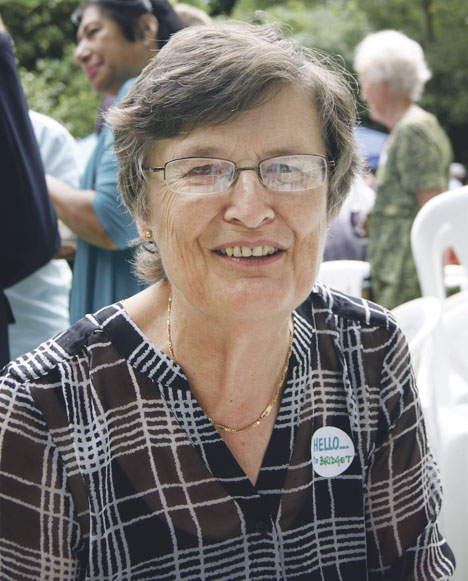 July 2014
Reflection

Bridget Taumoepeau
Fr William O'Malley SJ has written a version of Psalm 32 – 'How gifted I am with forgiveness when my God forgets I have sinned, like a child, without grudges or guile.'
This struck such a chord with me for two reasons.
One is Pope Francis' repeated reminder to us that a tender, gentle God is longing to forgive us, if only we would ask for forgiveness, and the other is the example of my grandchildren.
Recently I looked after my two youngest grandchildren (aged five and three) for a few days.
One day the three-year-old and I had a battle of wills around taking a nap.
He and his sister were arguing with each other, and he looked very tired.
However, he was not pleased with the suggestion of a nap – 'I DON'T WANT A REST'.
After a time we reached a mutually rather disgruntled truce – he would be quiet and play nicely and I would not insist on a nap. I did leave a proviso, that if things deteriorated I would insist on the nap – knowing in my heart I would not be successful!
Somewhat to my surprise all went well and after a little while he sidled up to me with a big grin on his face, saying, 'I'm smiling, Granny!'
More striking was the fact that neither he nor his sister seemed to hold any grudges, and life resumed its normal course.
I don't think it even crossed their minds to report to their parents when they returned, that Granny had been pretty grumpy herself.
And so when I read Fr Bill's version of the Psalm, I felt how true it was and how humble I should be that little children, as well as my God, could forgive me so readily – not only forgive, but apparently forget.
I have to thank Francis who has touched my heart with his love and affection for children, taking Our Lord as his example, and also by his description of a loving forgiving God. Without that, the words may not have jumped out at me from the Psalm in the way that they did.
How wonderful each day, when saying my night-time prayers, to reflect on the beauty of children and the limitless ability of God to forgive.