Connecting families with young children to their parish and school community is the essence of the Side-by-Side Mentoring in which 27 people have been training in the past three months.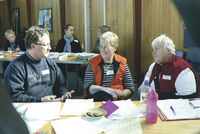 Trainees from both the Palmerston North and Wellington regions have come together for three days over the three months to explore the nature of families and ministry, look at where behaviour patterns start and the effects of major change in a family, and to learn how to listen sensitively and communicate compassionately.
Their mission now is to make links with families and their parish and school community, walking alongside them and sharing their joys and difficulties.
Already mentors have found their training has positive results.
'Side-by-Side Mentoring is a great opportunity to meet new people wanting to serve their church in a creative way;' and 'It is worthwhile – extends the bounds of pastoral care within a parish community'. The mentors have come from the Catholic, Anglican, Salvation Army and Seventh Day Adventist churches and find there are significant benefits in working with the different denominations. This simple system is proving a winner in helping communities connect with those families that are on the fringes of our faith community, as well as those who are closely involved.
The next training programme will be in Nelson October 30 to 31. For more information contact Sue Devereux, 04 496-1744 s.devereux@wn.catholic.org.nz
Image shows Caroline Stuart, Ed Duggan, Adrienne Brewerton, Rosemary Biss, Lynn Jarden and Chris Todd in their small groups discussing the challenge to befriend young families.