Priests from New Zealand have been serving in Antarctica for decades. I am fortunate to be one of them. As a Divine Word Missionary usually serving in hot, humid Papua New Guinea, I was struck by the cultural and physical difference of serving in the coldest, highest, windiest and driest continent in the world.
Living in such a place, hardly affected by humans, I developed a strong sense of the sacred in the immensity of the natural environment. Could its magnificence hide secrets of the cosmological beginnings of space, matter and time?
In the silence of the icy continent, the creative Word calls forth life as it has done for eons. The southern continent resists human intervention. In fact, the experience of Antarctica causes me to wonder how human behaviour worldwide can be modified to ameliorate our impact on earth's climate.
It is a challenging mission to be chaplain in Antarctica. Many people when at home regard church and church-going as normal in the context of their family and neighbourhood. Living and working at a research base in Antarctica is not 'normal'.
The 'ice' can be a new 'wilderness' where one may be tempted to set aside one's Christian identity. So we try to make the 'Chapel of the Snows' and its activities a welcoming place for everyone. Some respond – others choose not to.
For me the most memorable occasion was the memorial service on Mount Erebus on January 21. It was our second attempt in two weeks to land near the memorial cross on the northern slopes of the mountain. We wanted to bring the
aluminium sculpture in the shape of a koru containing messages from relatives of those who had died in the [November 1979] crash of Air New Zealand Flight 901. As we approached the cross, the winds subsided and our trusty pilot brought us down safely on the rocky outcrop overlooking the crash site.
After our previous attempt 10 days before when cloud and wind had forced us to turn back, I had expected the mountain to be cold and inhospitable. My image of the volcano was of an adversary that had claimed the lives of 257 people, brought grief for families and horror for the recovery teams.
To my surprise, I felt secure and a sense of acceptance as I surveyed the icy slopes to the peak where puffs of white smoke and steam drifted aloft from the crater. There was no vestige of the crash of 30 years before, except a blanket of white snow and ice marred by the occasional crevasse. The mountain has claimed all signs of the wreckage.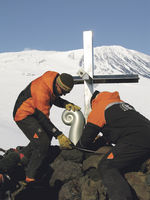 Erick Barnes and Ian Whiteley from Antarctica New Zealand set about carefully positioning the heavy canister and securing it to the metal cross. Besides the pilot there were five of us: Two from Antarctica NZ, along with Terry Melton representing the US National Science Foundation, a cameraman from NZ TV1 and myself the Kiwi Catholic chaplain based in McMurdo. We were there with the support of many others at Scott Base, McMurdo and elsewhere.
The memorial service
We began with a period of silence – heads bowed in respect for those who had died at this spot. Exhilaration from the flight changed to a sense of awe. I began to pray, 'God our Creator, you are the guardian of all peoples. Therefore, we remember before you all those from the four corners of the Earth who passed away on this mountain 30 years ago.'
The second part of the prayer was in Te Reo. 'Kua mauria kā wai e mātou mai i te Mauka Aoraki hei tohu maumahara, hei tohu aroha…' (We have brought water from Aoraki/Mt Cook as a symbol of remembrance and love….). The mountain was no longer an adversary. We were bringing water from Aoraki, a gift from Ngai Tahu.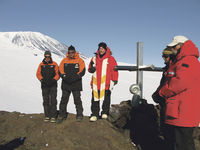 As a kiwi priest and anthropologist in Papua New Guinea over many years I have learned a deep respect for natural symbols such as earth, fire, and water. All three sacred symbols were present on this volcano.
'Let your light shine upon them all, and by your grace, continue your loving care for us who still grieve.' I was aware that those who died on this mountain and their families were from various parts of the world: New Zealand, Japan, America, Britain, Canada, Australia, France and Switzerland.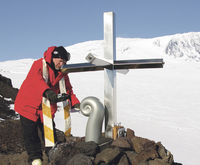 I began sprinkling the water around the foot of the cross and koru. 'May Aoraki's water of blessing refresh your souls. May the grace of Antarctica's stillness be yours, the grace of its beauty and vastness be yours, to enlighten your dreams, to open your spirit to eternity, until the angels of light awaken you.'
As I prayed aloud I felt a lump in my throat and my voice quivered. I know others had similar feelings. Eyes were wet from both sadness and the cold wind, yet I don't think the water being sprinkled represented tears so much as water of life, establishing a new relationship between the two mountains and ourselves.
Having finished the prayer of blessing, I noticed a thick bank of cloud building up in the North. Soon it could envelop the mountain; however, our pilot assured us that we could stay a while. So we spent another half hour tending to the cairn of stones supporting the cross and koru. Some walked away a distance to reflect and gain perspective on the scene. Everything was silent. I felt a sense of peace and blessing.
Afterwards I was at a loss for words. I think the language of the prayer best expresses what I felt.
Remembrance of the tragedy will not end. But, hopefully, placing the koru symbol containing messages, along with this special memorial arranged by Air New Zealand and supported by Antarctica NZ, will establish a new chapter for our memories.