Anglicans and Catholics share the Side-by-Side mentoring programme
Sue Devereux
3 May 2011
The Anglican and Catholic dioceses of Wellington have formalised an arrangement to keep working together to support families with young children.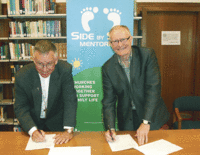 On Tuesday April 12, Archbishop John Dew and Bishop Thomas Brown from the Anglican Diocese of Wellington signed a Memorandum of Understanding agreeing to continue working together in the Side-by-Side Mentoring programme. This joint initiative began in 2009 through the collaboration of Sue Devereux and Gendy Thomson who represent the two dioceses.
Through Side-by-Side Mentoring our churches are becoming places where parents turn for support, advice and belonging. Side-by-Side Mentoring trains mentors to walk alongside families with young children. We believe that parents are the heroes of our society and we want them to know they are valued.
Mentors are trained to walk alongside a family, reminding the parents that there is a community of faith which cares about them and is willing to support them in their parenting role. This has led to some amazing outcomes: parents needing help for their children have been introduced to the right specialists; families with sick children have had access to people who would mind their other children during a hospital stay; young mums have been brought together in playgroups; single parents have felt part of a community; refugee families have had mentors to help them settle in; families have made the decision to take their children to church services – and so many more. Mostly though, parents have had someone to listen to – to share the joyful and the sad moments, giving them a sense that they are not alone.
This joint initiative is being recognised both within and beyond our church, and we are receiving positive feedback about the strength of churches working in unity. By training together as Christian churches we are accessing greater resources and becoming a more powerful force for good in the world.
We need more mentors in parishes. The next training course will be in Wellington, July 9, August 13, September 10.
For more information come to an introduction evening on May 26 at Connolly Hall, 7.30pm or contact Sue Devereux (04) 496-1744 s.devereux@wn.catholic.org.nz
Image: Archbishop John Dew and Anglican Bishop Thomas Brown sign an inter-church agreement to present Side-by-Side mentoring for families with young children.