Columns
Fr Michael Gormly
September 2012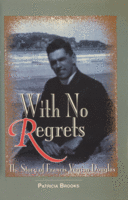 Nearly 70 years after the brutal death of Columban missionary Fr Francis Vernon Douglas of Johnsonville, the New Zealand Church remembers with deep affection the extrovert, idealistic, sports-loving man who began his priestly ministry in New Plymouth in 1934.
Fr Frank died in the Philippines at the hands of the invading Japanese military who, suspecting him as a foreign spy, kept watch on him. Two years of surveillance led to his arrest in July 1943 by the military police intent on containing guerrilla activity in the mountains.
According to one report, the Japanese suspected he had been hearing the confessions of resistance fighters.
He was taken to the neighbouring town of Paete, beaten and tied to a pillar in the church. Others, too, were interrogated, deprived of sleep, and tortured until they gave information or died.
Fr Frank remained silent throughout the ordeal. After three days, bloodied and bruised, he was bundled away on a truck towards Santa Cruz.
He was never seen again, and his body was never found.
His suffering made a deep impression on the town. People realised that here was a strong and brave man who withstood three days and nights of horrific punishment. He suffered in silence rather than betray his friends.
After the war reports of his heroic death in the service of others reached his homeland. Seventy years later the Church in New Zealand continues to honour his memory by re-telling this story.
Frank Vernon Douglas was born in Johnsonville, Wellington, on May 22, 1910. He finished school at 14 and began work as a messenger with the Post Office.
In 1927 he entered the national seminary at Mosgiel and trained for diocesan priesthood. Ordained in 1934, he was appointed to the parish of New Plymouth.
Called to a mission
In 1937 Fr Frank volunteered for mission work and joined St Columban's Foreign Mission Society. Family and friends acknowledged that he had fine qualities and the temperament for overseas challenges.
After a year of training in Australia, he was appointed to Manila. He soon learned the local Tagalog language and absorbed the customs of the Filipino people.
His first parish was Pililla, a small struggling lakeside town in Luzon, with a half-ruined church and a dilapidated presbytery. The people were poor. Because of religious indifference, the number of practising Catholics was small.
His work was clearly cut out for him and he was keen to make the most of every opportunity.
The Japanese military invaded the Philippines shortly after Pearl Harbour, in December 1941 and set their sights on Fr Frank.
A Columban perspective
Fr Frank Douglas was among the heroic figures nominated by Caritas in the 2012 Lenten Reflections.
Each of the six served in the mission of the New Zealand Church. Catholic people have recalled the challenging aspects of Father Frank's violent death in the midst of a conflict situation and wonder how best to promote the memory of a dedicated life and a heroic death.
As I see it, the most appropriate tribute from the New Zealand Church might be to refocus on Fr Frank's missionary ideal, and to re-tell the story of his commitment and experience. It must not be forgotten that at the heart of his story is the New Zealander who deliberately volunteered for mission service to others.
We remember Fr Frank as a down-to-earth priest, a Columban missionary with a generous heart. Heroic in death, as a pastor to the Philippines, 70 years later he is an inspirational figure in the New Zealand Church and to New Zealanders in general.
Next year – 2013 – will be the 70th anniversary of his death, a date worth remembering.
Fr Michael Gormly is coordinator, St Columban Mission in Lower Hutt.
Image: Patricia Brooks's Book, With No Regrets, was published in 1998 and offers the extended story of Father Frank Douglas.