You're rushing out the door and the phone rings. After a moment's hesitation you think you'd better answer it and after another moment you're glad you did.
A friend has had to take her toddler to hospital with suspected appendicitis and there's no one to mind the baby. As well she's struggling with her husband who seems reluctant to take his share of the child-rearing responsibilities.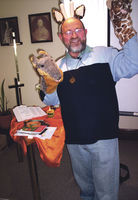 You don't think twice about cancelling your plans for the day. You visited your aging mother yesterday and she won't mind waiting another day or two before she sees you again.
In fact, you're delighted that your friend has rung because you've just taken on this mentoring role—side-by-side mentoring it's called—where you walk alongside someone who's dealing with a difficult issue or who's simply moving into a new stage of life.
Your friend talks while you rock the baby in his pram and you both wait for the doctor to see her little girl. Her husband is in a high-flying job and often works until well after dinner time. Apart from the fact that he's not around to help with getting the children into bed, she worries that he is missing out on their development. You listen. It's a common concern voiced by many mothers but each situation is special for the person there.
That's what side-by-side mentoring is about—treating each situation and each person as they are at that particular moment—unique.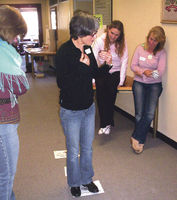 Over the past three months of the course, you've learnt about how to listen actively and compassionately. You learnt such a lot about parenting when your three were growing up, how very different their needs were at various stages. It's great to be able to pass it on.
At the end of the day your friend thanks you for your company and says she feels so much better having got all that off her chest. She's thought of some new ways to broach the subject with her husband. You feel good because you've had an opportunity to practise your new skills and you congratulate yourself that you're quite good at it.
You recall the fun you had on the course. There was a chap there who used puppets to show how creative listening works and you felt you'd learnt so much about issues in your life that might stop you really focusing on the other person's needs.
You want to tell a few others, who you think would have the necessary skills, about the course that starts next April and you remember that you wanted to ring the coordinator and tell her how much you'd learnt. What was her name again: Sue Devereux, 4961744 s.devereux@wn.catholic.org.nz
Eighteen Side-by-Side Mentors were commissioned by the Reverend Alison Camplin for this ministry and urged to walk alongside young families, offering support, wisdom and information as parents need it.
Images: Top right: Br Kevin Dobbyn uses puppets to distinguish between violent (the jackal, right) and compassionate (the giraffe) communication.

Above: Carrole Lewis, Chris Hartley, Frances Davidson and Catherine Froud going through the stepped process of compassionate communication.
Side-by-Side Mentoring is an initiative of the Everyday Families Group, a group of people from three church denominations (Catholic, Anglican, Baptist) with a passion and calling to support families in a unified way.