Regina Daly PBVM
5 June 2011
Voices of the children from St Michael's School, Taita filled the Church in Stokes Valley on May 14 when many gathered to celebrate the Golden Jubilee of the first New Zealand-born Presentation Sister – Mary Tait.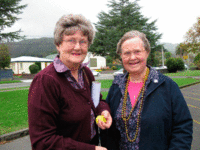 Sixty years ago in 1951 Archbishop McKeefry invited the Presentation Sisters from Ireland to Taita Parish – Mary Tait was a young woman at that time and was very much influenced by the five Sisters who arrived from Tuam in Ireland. Fr Jim Dooley referred in his homily to the excitement of those early days and the significance of the Sisters' presence among the people.
In 1958 Mary responded to the call in her heart to become a Presentation Sister and she went to Ireland for five years to follow in the footsteps of Nano Nagle who founded the Presentation Sisters in Cork in 1775. Mary made her First Profession in Ireland in 1961.
Most of Mary's teaching years were spent in the Hutt Valley so it was appropriate to celebrate her jubilee in this area. In the celebration her 50 years of loving and dedicated commitment to the Presentation Sisters and the people with whom she worked was acknowledged and celebrated. It was a day of joy and a day of gratitude for the many blessings in Mary's life.
A women's support group which Mary initiated for young mothers in Naenae still continues to thrive and provide support and new life for all who gather. The young mothers are now grandmothers! Mary's hospitality of heart, her compassion and her listening ear are much appreciated in the Hutt Valley, reflecting the qualities of her foundress Nano Nagle. The echo of the children's voices singing Nano's song, composed by Chris Skinner sm remain in our hearts as we continue to journey:
'She believed and like a pilgrim she chose to walk tomorrow's road.'
Image: Mary Tait, right, with her sister Josie Conlon near her home in Taita.