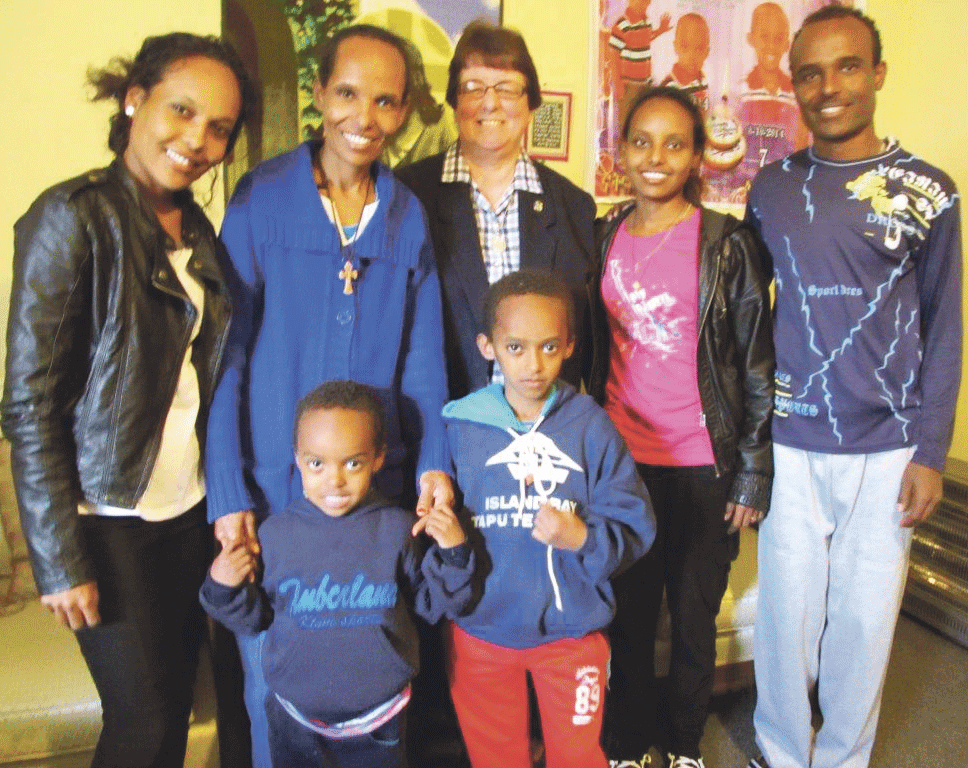 Working with refugee families
Sr Rachel Moreno
My involvement with refugee families began in 1995 when I was living and ministering in Auckland.
I was inspired to care for and support refugees by the experience of my late mother, Helena, a war-battered Polish refugee who together with 732 other children was transported from Persia to Pahiatua, in 1944. Last month, November 2014, marked the 70th anniversary of the Polish refugees' arrival in New Zealand.
Initially, I worked with refugee families accepted by New Zealand as 'quota refugees' referred by the United Nations for resettlement. Quota refugees receive government assistance. However, over the last six years I have worked closely with the Refugee Family Reunification Trust, in Wellington, which does not receive government assistance.
Many refugee families who arrive here have been forced to flee their countries due to war and persecution and some have lost contact with other immediate family. These families find it difficult to begin a new life knowing their loved ones have been left behind in a refugee camp or in a similar appalling circumstance. The Trust purpose is to financially assist refugees in Wellington to apply to bring immediate family members to join them in New Zealand. Reuniting families is key to successful refugee settlement.
The families I have supported and cared for are Christian and Muslim and come from Ethiopia, Eritrea, Somalia, Sudan, Afghanistan, Sri Lanka, and Iraq.
As I work with these families I am reminded of the life of Mary and Martha walking hand in hand, seeing Jesus with the eyes of a praying heart, with Mary at the feet of Jesus and Martha offering friendship, hospitality (Luke 10: 38–42).
I bring a friendly face and a supportive guide to new families, helping them to obtain furniture, applying for housing, setting up home, explaining how things work in New Zealand, enrolling children in schools, taking them to Work and Income and helping with filling lots of forms. These families have very little or no English. I call on them socially to see how things are going and if they need any other necessary help and support. I also help with food parcels, and warm clothing.
Two years ago, the Sisters of Compassion together with Refugee Family Reunification Trust, set up an emergency, transitional house for new refugee families while the families await their own home. So far, four families have benefitted from this arrangement.
The current housing shortage makes life even more difficult for refugees when they first arrive in New Zealand. This housing project is a very visible and tangible sign of support for a refugee family, and a warm welcome as they start a new life here.
The Eucharist is the centre of my life. I am nourished at the table of the Lord and sent out to see and share Jesus with the eyes of a loving heart. To see Jesus in each person I serve by being kind and gentle, offering my hand in friendship, accepting people as they are, accepting of different cultures, listening attentively, showing respect, being available, being observant to people's needs and ready to help, showing care and concern and being a carrier of God's love.
I am also challenged to see with the eyes of a compassionate heart. I am called to imitate Mary of Compassion, standing beneath the Cross of her beloved Son, being there, waiting with the one who suffers (John 19: 25–27). I try to show the compassionate face of Jesus, to support people in times of struggle, to offer and give encouragement, comfort and consolation.
I love working with refugee families, and I enjoy being with and walking beside them supporting and caring for them, showing the compassionate face of Jesus.