Columns
Fr Noel Delaney
October 2012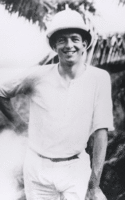 In the fifth chapter of Lumen Gentium of the Second Vatican Council, 'The universal call to holiness in the Church', can be found the following words:
'It is therefore quite clear that all Christians in any state or walk of life are called to the fullness of Christian life and to the perfection of love.'
In our lifetimes we hear of people who have generously answered that call, and I believe that Emmet Charles McHardy was one of these.
Emmet's parents settled on a dairy farm in Pihama, Taranaki, where Emmet was born in 1904. He attended Pihama primary school and St Patrick's College, Wellington.
Entering the seminary
After Emmet matriculated at 17, his parents expected him to go to university and become a medical doctor. Emmet, however, had already offered himself as a candidate for Marist life at the Scholasticate at Greenmeadows, Hawkes Bay.
At Greenmeadows, Emmet contributed from his many gifts, he was serious of purpose and, above all, he was happy. In his notebook, he writes after his first spiritual retreat: 'I am joyful, I set out up my long path with infinite faith.'
Towards the end of the seven years of priestly and religious formation, he felt God was calling him to go to the most difficult of Marist missions in Oceania—the Vicariate of the North Solomon Islands. He took advice from his spiritual director, made his offer to the Superior General in Rome, and was accepted.
'It will be a great blow to them at home,' he confessed to his director. In his own words: 'a loving, kindly mother and a father who was always a most genuine and real friend.'
Again, we are witnessing his deep-felt conviction about God's call in his life: strong to the point of urgency.
Man on a new mission
On Holy Thursday, 1929, Emmet boarded the Maunganui in Auckland en route to Kieta in the British Solomon Islands.
He was eased into missionary life, living with Fr Maurice Boch, the Marist Prefect Apostolic.
Boch planned to establish a new mission. Having looked at the qualities of this new man, he felt he could charge him with its foundation. So Emmet went north, to Tunuru.
Emmet was to set up, and run, a Catechist school. Then he was to make his way into mountains to bring the remote Eivo people the message of salvation.
The school and boarding facilities were completed and 33 young men from six different regions, and languages, were enrolled. It was joy to Emmet to train them.
Then contact had to be made with the Eivo people. In his three years at Tunuru, Fr Emmet made at least 14 extended journeys, one lasting two months. He could spend this kind of time after an Australian lay volunteer, Mr Myers, relieved him as teacher in the Catechist school.
Emmet speaks in his letters: 'It is hard; I love to be away out — child of the wild and all that sort of thing, you know – but when I am out, I think of the school at home and wonder how my boys are getting on.'
Sad news from New Zealand came in the shape of his mother's untimely death in 1930 and the disastrous Hawkes Bay earthquake in 1931 – seven students died at the seminary in Greenmeadows.
Loneliness was inevitable. And then he became very ill, with 'gastric malaria', pneumonia and tuberculosis.
The new Marist bishop, Thomas Wade, realised that he must send Emmet to Australia for treatment.
Despite Emmet's pleas to stay, he went to Lewisham Hospital in Sydney, under the care of the sisters of the Little Company of Mary.
An end all too soon in coming
When it became clear that his illness was terminal, Emmet was given the option of returning to New Zealand. He chose to do so, wondering whether the cooler climate might give him more time, even if not recovery.
He was received at Our Lady's Home of Compassion in Wellington by his childhood friend Sister Eustace (Molly Conaglen). His time there was a blessing for his family, his Marist brothers and his many friends.
His health did not improve, and the records of the home say: 'He lingered, edifying everybody, until May 17, 1933.'
Emmet sums up for us his short life in his words to Sister Eustace on his arrival at the Home: 'Here I am, Molly, a failure.' Many of us would see him as a holy success. Whether the Church will one day want to claim him as holy will in some way depend on our faith and prayers.
Fr Emmet shared his mission through hundreds of letters to family and friends. His brother John (also ordained) had the foresight to seek their publication. The book – Blazing the Trail – was prepared by poet and journalist Eileen Duggan, and published in 1935 (reprinted in 1950). In addition, 1985 saw the publication of Here I Am, a Failure! by Francis Durning SM. Both are out of print, but copies do turn up second hand.
Image: Fr Emmet Charles McHardy showing that he lived by his resolution to 'always have a happy smile for everyone, especially for those who like me least'. Photo courtesy of the Marist Archives.