New Plymouth priest Fr Tom Lawn sometimes wonders where he fits in.
'You don't fit in anywhere, but in another way, you fit in everywhere,' he says.
The commitment to celebacy means 'you are free to serve God and his people.'
Weddings and baptisms are a big part of his job.
'You love to wonder, if you had children, what they would be like—you often wonder that.
'I was watching a good friend teach his daughter how to ride her bike. I thought "I will never do that".
'Every so often, something just grabs you and shakes you up a bit.
I watch dads and mums bringing their daughters up the aisle and congratulating their sons afterwards—there is something very special about that.'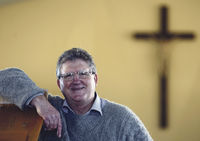 But Fr Tom has never doubted his decision to devote his life to the Lord. 'I never question it, but you do get sad.'
He says making a 2000-year-old religion based around Jesus Christ interesting in the modern day can be difficult.
'Everything that we do is meant to be a sign of him and an instrument of him.
'As instruments, we have a lot more competition.'
He says spending time serving his parishioners makes him feel part of each and every family.
'You are part of people's lives at very key moments. All of those people pretty much want you to be part of their key celebrations. That is pretty satisfying.
'There is a deeper sense that what you are doing is what God, our Lord and the Holy Spirit, want you to do.'
A diocesan priest makes promises to the Lord and to the bishop rather than the vows taken by members of religious orders.
While Fr Tom calls his Ford Focus his own, everything in the house is owned by the parish.
'Basically, we are kept men.'
He is paid a net salary of $7980 and a monthly allowance of $650, which goes into the household account for essentials like electricity.
A school time calling
The fifth of eight children born to Okato farmers Jim and Monica Lawn, Fr Tom says the idea of becoming a priest came to him while he was still at school.
'It just entered my head in about sixth form, I suppose it was, and it stayed in my head, so it just flowed along from there. I just started getting these thoughts that maybe it was a good thing to look at how to spend my life.
'I forgot about it for a while and then it came back again and then I forgot about it for a bit longer and then it came back again.
'I like to think it was God nudging me. It might have been me nudging me, I don't know.'
He attended Okato District High School before completing his sixth form at New Plymouth's Francis Douglas Memorial College. Then, with his sights finally set on becoming a priest, he attended St Kevin's in Oamaru to learn Latin.
Fr Tom spent the following two years studying philosophy in Christchurch and four years studying theology in Otago before he was ordained in 1975 at the age of 25.
Fr Tom then worked with experienced priests in several parishes around New Zealand.
'You were placed with a mentor, somebody they thought could help you develop good habits as a priest—a good style of relating to people.'
Then it was back to school in Latin America to learn Spanish, a language he still has a good grasp of, before taking a five-year posting in Ecuador, South America.
'The resilience of people just shone through. Where I worked was a lot poorer, it was more populous. Their countryside is full of people.'
Fr Tom worked at a parish in the country and then in a city slum. The roads were dirt and the country had a fragile infrastructure. Investment in hospitals and schools was lacking.
'There were 80,000 people in the first place and only eight hospital beds.
'I saw lots of young children die through disease.'
Some of the images still haunt him. 'I still see little caskets or babies wrapped in blankets in their mothers' arms, coming up to the presbytery doors to be blessed, at times.'
The church ran programmes to help people know that Jesus was in their lives and helped to develop schools and other services. Fr Tom says despite the hardship, the people were full of spirit.
'Overall, they were battlers.'
The experience opened his eyes to the everyday difficulties people in South America face and left him resentful of the excesses of the Western world.
'When I came back here, a lady was moaning about the standard of care she got at the hospital. I said, "In half the world, you would have died".'
He found even the simple things upsetting, like the variety of pet food available in supermarkets.
Fr Tom was pleased that he was given a post in New Plymouth so he could be with family on his return to New Zealand.
'I watched my nieces and nephews grow up, which was good,' he says.
Fr Tom is currently studying te reo—his third attempt to learn the language.
'When I came back from South America, it felt crazy to be able to live, work and dream in Spanish and not know Maori.'
In his down time, Fr Tom is just like anyone else. Years ago, he and other priests used to get together on a Monday night to play penny poker, but these days he enjoys spending time at his family's beach house in Oakura, playing bridge at New Plymouth Bridge Club, golfing, listening to music and walking.
'I love watching the waves roll in. I could never be a fisherman, I get impatient.' And he likes his creature comforts. 'I have a beer or whisky most nights.'
At the end of August, Fr Tom moved from St Joseph's New Plymouth to be parish priest at St Joseph's, Waitara and Sacred Heart, Inglewood.
Fr Tom says he enjoys working with people and has no ambitions to seek higher office.
'It is a really difficult job, especially with the shortage of priests and some of the troubles some of our priests have had.'
He believes he will still be serving his flock well after the retirement age of 75.
'After you turn 65, you can get out of the administration side and you just work with those in need.
Fr Garty of Okato still says Mass most days and he's 88 and Fr Rickard in Bell Block is 91 and still going strong.
This profile was first published in the Taranaki Daily News on August 12.