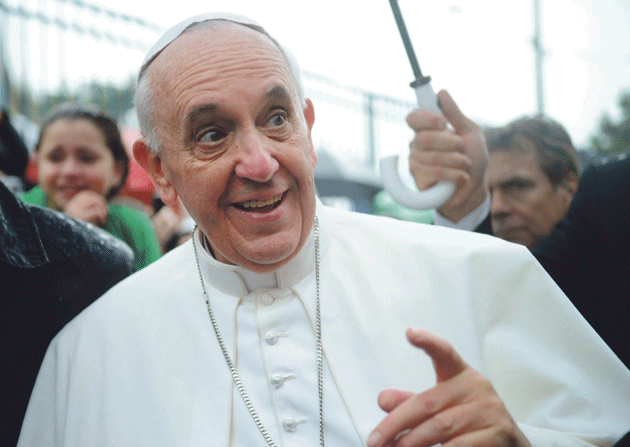 May 2014
Feature
Bridget Taumoepeau
On the commuter train from Waikanae to Wellington recently a dear little boy caught my eye and reminded me of Pope Francis in his exchanges with children.
This two-year-old was with his mother and grandfather and whooping with delight at the excitement of tunnels and railway stations and opening and closing doors.
What attracted my attention was the relationship between granddad and grandson. It was as if they were in another world, totally absorbed in each other, unaware of the other passengers around them.
Granddad described the countryside around, pointing out all the marvels of the hills and the sea, Kapiti Island, animals, and the next train that was going to rush past us.
The little one listened wide-eyed and added his own observations in a childish language, incomprehensible to us, but completely understood by his grandfather.
Even when we were delayed getting into the Wellington station, there was no distress – just another opportunity to delight in the goods trains and all the comings and goings, and to be surprised by a voice over the intercom.
Here was the beauty of the wisdom of age passing on wonder to a young mind soaking it up like a sponge – not just the transfer of knowledge, but a trusting relationship and two people at opposite ends of the age spectrum with shining eyes, loving each other's company. Even as I eavesdropped on this most intimate of exchanges I, too, could see the journey along the Kapiti Coast in a new light.
Pope Francis understands the importance of this type of exchange. In his own life his Grandmother Rosa's influence was enormous.
He still talks of her with great affection. He keeps her letter to him, written at the time of his ordination, in his Breviary, which he says is the first thing he opens in the morning and the last thing he closes at night.
He repeatedly asks us to care for children and the elderly, who can be the most vulnerable in society, yet are also our strength. We often look to the young as being our future, but without the wisdom of the old, they will be lost.
Francis himself emanates that wisdom – he was not shy to compare himself and his older brother cardinals, to wine that improves with age. Let us heed his words and care for our young and our old, who together can forge a better future.
Pope urged to boycott fossil fuels
Religious groups have urged Pope Francis to back a campaign to encourage millions of people, organisations and investors to pull their money out of the fossil fuel industry, The Guardian Australia reported on 22 February.
Multi-faith groups in Australia and North America have written to the pope saying it is 'immoral' to profit from fossil fuels. The letter, shown exclusively to the Guardian, says 80 percent of global fossil fuel reserves must 'stay in the ground' if dangerous climate change is to be avoided.
'We urge you, as a person held in high esteem by many millions around the world, to speak clearly about the place of divestment from fossil fuels as one significant means to avert the worst of climate disruption,' the letter says.
'You could have a desperately needed influence on the direction humanity takes from here. We urge you to use this influence.'
The plea to the Vatican follows a call from Archbishop Desmond Tutu for an anti-apartheid style boycott of the fossil fuel industry.'