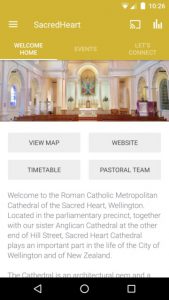 WelCom August 2017: Wellington's Cathedral Parish of the Sacred Heart has launched a free App with a variety of services.
A small team of parishioners have established a smartphone application to help connect the faith community with its members and others interested in the cathedral.
The App is compatible with Android (Google Play) or iOS (App Store) and provides access to parish newsletters and website, cathedral timetable, homilies and social media pages. There is also a 'Prayer Request' page and 'Alerts' to signal changes in Mass times and special events.
Download link: get.theapp.co/2d6c