WelCom April 2021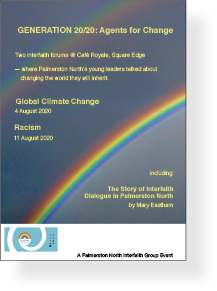 A new book, GENERATION 20/20: Agents for Change was launched at the Central Library in Palmerston North on 21 March – the International Day for the Elimination of Racial Discrimination.
The book, written by Mary Eastham, is a record of two, young adult interfaith forums held at Square Edge, Palmerston North in August 2020.
Seven young adults from four faith traditions – Baha'i, Christian, Muslim and Sikh – addressed the issues of climate change and racism, to help change the world they are inheriting.
Among them were young people from the local Catholic community including two St Peter's College students: Klem McJarrown-Keller, who addressed climate change and Elza Gibu Joseph, who stressed the importance of the youth voice in telling personal stories of racism, and how change might occur.
Jaspreet Singh from the Sikh community moderated the panel on racism and contributed to the climate-change forum. Tessa Ma'auga and Jasmine Pai from the Baha'i community spoke about the importance of forming spiritual attitudes of love and respect with children as the best way to overcome the evils of racism. Agha Wajeeh, from the Muslim community and a former Boys' High student, presented at both forums.
At last month's book launch, Grace Fakahau from Tonga, Klem McJarrow-Keller, who is now studying at Otago University, and Jaspreet Singh, a young scientist at Ag Research, were on the climate-change panel. They each spoke on the devastating effects of climate change from their own cultural and religious perspectives.
Hard copies of the book are available in all Palmerston North high schools, faith communities, the Diocesan Centre, the Catholic Centre in Wellington and university libraries. Contact Mary Eastham at: maeastham23@gmail.com for the book in PDF format, or go online to: pndiocese.org.nz/wp-content/uploads/Generation-2020-Agents-for-Change.pdf