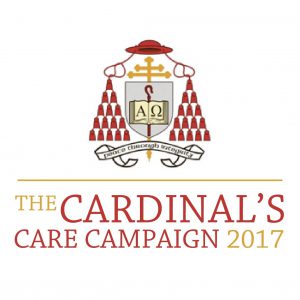 WelCom February 2018: In the aftermath of the 2017 Synod 'Go You are Sent…', which highlighted helping those on the peripheries of society, the Cardinal's Care Appeal has drawn a huge response from people across the Archdiocese of Wellington. More than $45,000 has been donated through 400 gifts for the appeal held during Advent.
Cardinal John Dew says, 'I'm delighted with the response and am sincerely grateful to everyone who supports the life of the Church in the Archdiocese.
'Many people came together during the recent archdiocesan Synod to find new and relevant ways for the Church to serve others and to care for our neighbours. The seeds have been planted, outreach ministries have been planned, and the work has commenced.'
Support through the Cardinal's Care Appeal will enable the Synod initiatives to grow and bear fruit, Cardinal John said.
Archdiocesan General Manager Paul Bayliss said, 'We re-branded the annual Cardinal's Care Appeal to highlight new initiatives resulting from the Synod and Cardinal John's strong focus on caring for those in need within our community.
'The Church's charitable work makes a huge difference in New Zealand and it's exciting to see so many people in the Archdiocese getting behind and generously supporting the Synod initiatives.'
Appeal organiser David Powick said providing parishioners with alternative ways of giving helped with the donation processes.
'In the past, parishioners have donated mainly using envelopes on the pew. This year we trialled a number of electronic methods such as EFTPOS machines in some parishes. And the online donation platform Give-A-Little proved convenient for donors who gave $12,000 through the website.
'Many people today don't carry cash so these electronic methods have been a positive addition to the Cardinal's Care Appeal,' Mr Powick said.
Further information about the appeal outcomes and processes will be published in WelCom and on the Archdiocese website (wn.catholic.org.nz) during 2018.
"Nāu te rourou, Nāku te rourou, Ka ora te iwi
With your food basket and my food basket the people will have enough"