News

Lesley Hooper
4 February 2013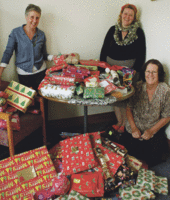 Catholic Social Services was able to help many more families than in previous years thanks to an overwhelming response from parishes in the Wellington area to their appeal for Christmas gifts.
Over Christmas many families struggled to put food on the table let alone have gifts to share with each other. But because of the wonderful generosity of so many people, many of the families we work with were able to enjoy the Christmas spirit.
Catholic Social Services is now gearing up for its Annual Street Day Appeal on Thursday 28 February.
The money raised in this major fundraiser helps Catholic Social Services to carry out much of its charitable work.
Having staff and volunteers on the street also raises the organisation's profile with the public and the community.
We are always looking for volunteers to help us on the day. Are you able to give an hour of your time?Phone Catholic Social Services on (04) 385-8642 – we would be most grateful for your help.
Image: Lesley Hooper, Cathy Agnew and Trish Heward with some of the gifts from Wellington parishes.