Friday July 31 was a Grandparents' Liturgy at St Patrick's School, Napier, for the junior and middle school. The pupils welcomed us warmly and presented us with flowers at the entrance to the hall.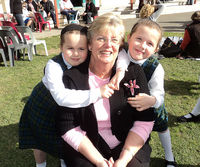 Fr Paul Kerridge presided over this wonderful, celebratory liturgy in which pupils took a leading role. A special touch for me was that our granddaughter read an intercessory prayer.
Mary Kelly spoke on behalf of all the grandparents present affirming the great joy our grandchildren bring us.
My husband and our two sons attended the same school so to have our grandchildren there is a privilege.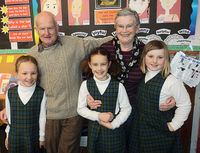 The prayers led by the children brought tears to the eyes of many present and the singing was superb.
After the liturgy, we were entertained with a wonderful selection of songs dating back to the good old days.
We were then invited to share lunch with the children on this lovely, sunny day. My grandchildren took me on a tour of their classrooms, proudly showing me their work and introducing me to their friends.
The special character of the school certainly came through in the caring and loving way in which this celebration was conducted.
Thanks must go the teachers for the way they are striving to steer our grandchildren into a positive future. We as grandparents should be proud of the way our children are taught these special Christian values.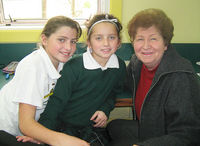 Meanwhile in Inglewood, St Patrick's was abuzz with grandparents and special adult friends on the same day, the feast of Jesus' grandparents, Ss Joachim and Anne.
The day started with a liturgy before the grandparents joined the children in class. They took part in a variety of activities including language and maths games, cooking, art and handwriting.
The children interviewed their grandparents about what school was like in their day and the differences they had noticed. The day finished with morning tea.
Images: Top: Katie and Brittany Barker with their grandmother, Carol Varcoe, at St Patrick's School, Napier. Above right: Eddie Kamper and Emily Dallas with their grandparents Mike and Margaret Martin and friend Niamh Muldowney of St Patrick's Napier. Above left: Michaela Spurdle, Alexandra Spurdle and Nana Zita Spurdle at St Patrick's School, Inglewood.