Seasons for Growth honoured
Cecily McNeill
7 June 2011
Esther Saldanha of Archdiocesan Pastoral Services has won a top award for her programme, Seasons for Growth, that helps people cope with change, loss and grief.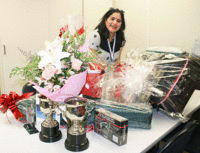 Esther ran the programme in Enliven Presbyterian Support Services' Rita Angus home for the elderly in Kilbirnie. During the second session (of three), one 97-year-old participant tearfully expressed loneliness and frustration at his loss. 'I was so capable, I can't even mow my lawns now and I miss my wife so much!' He said he felt 'worthless' and asked why he was still alive. Because he lives on his own, he said 'I cannot express my feelings to anyone; everyone is too busy – are people not interested in me anymore?'
He felt he was one of many older people who are dealt a 'double whammy' in the sense that he lost a confidante, friend and motivator in his wife and is suffering physical limitations because of age.
'Seasons for Growth lifted his spirits because he felt listened to and his feelings validated,' Esther said. 'The process enabled others in the group to promise him their ongoing support.'
Seasons was judged best in the category for 'an innovation that has made demonstrable improvement to the lives of residents or clients'. The programme also won the supreme award over nearly 30 other applicants in the various categories.
For more information about Seasons for Growth, contact Esther on e.saldanha@wn.catholic.org.nz or 04 496 5182.