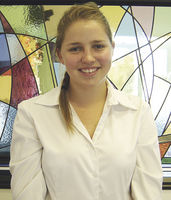 Jordan Anderson, deputy head girl of Sacred Heart College, Napier, has won a spot in the youth parliament in July topping a speech contest on the top five things that would make Hawke's Bay the 'best place in the world to live'.
Jordan reckons a sandy beach at Marine Parade and a ban on gang patches would go a long way. The 17-year-old's strong views in a powerful speech in the contest for Years 12 and 13 students, helped win her the Hawke's Bay representation. Jordan will sit behind PM John Key's representative as parliamentary whip.
Jordan is a keen debater, was the BoT student representative in 2009 and is presently 'herding' her team towards a successful performance for Stage Challenge. She's keen to study for a double degree in law and arts, majoring in history and 'minoring' in English.