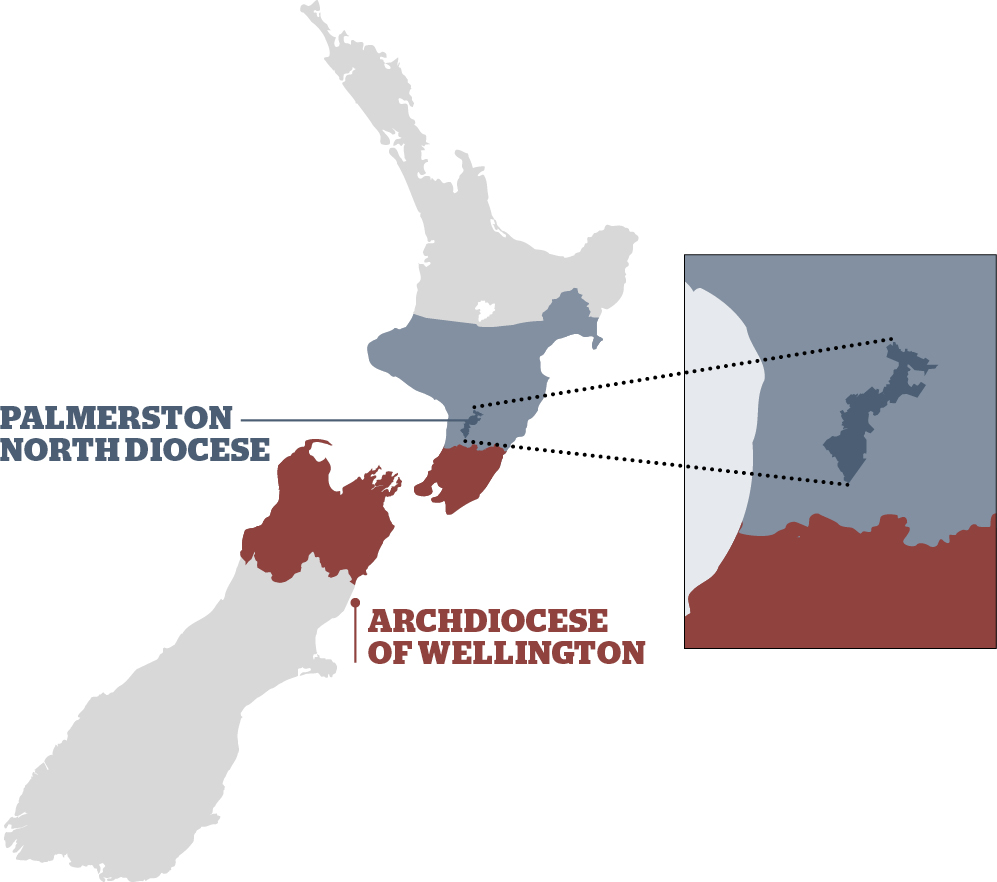 WelCom February 2021
This month WelCom visits St Mary's Parish on the north side of Palmerston North in the Manawatu region. The parish area encompasses St Mary's Church on Ruahine St, St Mary's School next door, St Columba's Church in Ashhurst, a town 13 kms north-east and at the foothills of the Ruahine Range, neighbouring settlements including Pohangina Valley and Bunnythorpe, and it is closely linked with St Peter's College in Holdsworth St.
The parish was constituted in 1951 by Archbishop Peter McKeefry with Fr J Kavanagh appointed Parish Priest. Its origins go back to the arrival of Fr Delphin Moreau in 1872 who came to Palmerston on St Patrick's Day to celebrate Mass with about a dozen people in a surveyor's hut in Coleman Place. Today the parish flourishes as a rich and vibrant community of many ethnic groups and families.
---
Brief Parish History
1872: French Marist priest, Fr Delphin Moreau, arrived in Palmerston North from Ōtaki, to celebrate Mass on St Patrick's Day with about a dozen people in a surveyors' hut, Coleman's Place.
1878: First church at St Patrick's blessed and opened. St Patrick's Parish covered a wide area, encompassing Pohangina Valley, Ashhurst, and Bunnythorpe (became part of St Mary's Parish in 1952) to Rongotea, Linton and Palmerston.
1897: Ashhurst Catholic community active and part of St Patrick's Parish.
1937: First church in Ashhurst destroyed by fire.
1937: Church in Ashhurst, St Columba's, rebuilt, officially opened.
1945: First section purchased in Ruahine St.
1948: Second section purchased in Ruahine St.
1950: St Mary's School opened with 63 pupils. First teachers were Sisters of Mercy, Sr M Hillary, principal, and Sr Gerard. School served as a school and a church for many years.
1951: Parish of St Mary's constituted. Fr J Kavanagh appointed parish priest. School became part of St Mary's Parish. Catholic communities of St Columba's Ashhurst and St Francis' Bunnythorpe, where parish churches existed, amalgamated with St Mary's Parish.
1952: Fr John Summers appointed parish priest (until 1982).
1953: Additional two classrooms built at school.
1958: Catholic Chaplaincy for Palmerston North Hospital commenced by St Mary's Parish (hospital across road from church site).
1959: Tenders let for new church Levesque Construction. First peg driven, church foundation stone laid by Archbishop Peter McKeefry. Progressive modern, open, design for church.
1960: St Mary's Church blessed and opened, Sunday 18 September by Archbishop McKeefry.
1960s: Active Catholic Youth Movement formed.
1963: Swimming pool completed.
1966: St Mary's Scout Hall opened.
1970: Contract for Church Hall – built and opened, 1971.
1973: St Peter's College foundation stone laid by Cardinal McKeefry.
1974: St Peter's College blessed by Archbishop Reginald Delargy and officially opened by Prime Minister Norman Kirk. Opening roll of 700 provided for boys and girls a combined Intermediate and Secondary School in Palmerston North City. Administered initially by Marist Brothers and Mercy Sisters.
1975: Presbytery opened.
1980s: St Mary's Cubs, Scouts and Brownies underway.
1981: School Integrated. Sisters of Mercy leave.
1982: Fr John Summers died, parish priest for 31 years.
1985: School upgraded to Integration standards. St Mary's 25th anniversary. Bishop Peter Cullinane blessed new altar and lectern.
1987: 50th anniversary of Ashhurst church.
1991: Works begins on new foyer for St Mary's Church.
1992: Fr Joseph Grayland SM ordained. Former pupil of St Mary's School and St Peter's College, today parish priest at Our Lady of Lourdes Parish, Palmerston North.
1992: Passionist Family Group commenced.
1993: 'Te Ngāhere'; new church foyer opened.
1996: Bishop Peter Cullinane blessed school additions.
1997: St Mary's School remodelling commenced; completed and blessed in 1998.
2001: St Mary's Parish Golden Jubilee celebrated.
---
St Mary's Parish
Malcolm Jury, Parish Council Member
St Mary's Parish is one of the three Catholic Parishes in Palmerston North. The church was built on its current site on Ruahine St and opened by Archbishop McKeefry in September 1960. The foyer was significantly upgraded in the early 1990s. St Mary's is directly opposite Palmerston North Hospital and has always been a place of quiet prayer for Catholics visiting the hospital.
Our parish priest is Fr Manoj Mathew IC and his assistant priest is Fr Robin Kurian IC. Frs Manoj and Robin continue to introduce and expose the parish to their Rosminian charism.
The parish roll is approximately 925. Mass attendance for Sunday Mass is around 350 to 400. Our parishioners are a true reflection of the multi-cultural shift in our New Zealand church. The congregation includes a mix of multi-generational families and new Catholic migrants to New Zealand. Over the last 10 years, our proximity to the hospital has increased the number of Filipino and Indian parishioners.
What makes St Mary's such a vibrant congregation is how all of the different ethnic communities involve themselves in parish life and activities. Our masses are enriched by the singing of Filipino and Tongan choirs. A significant number of our Indian parishioners are from the state of Kerala and are members of the Syro-Malabar Catholic Community. The Syro-Malabar Rite is an Eastern Rite that is in full communion with Rome. A Syro-Malabar Mass is celebrated at St Mary's once a month.
Our parish consists of a lot of families with young children so we were fortunate to celebrate the First Reconciliation and First Holy Communion of 32 children last year. Our children's liturgy can have upwards of 30 to 40 children and a similar number receive a blessing from Father at the end of Mass.
A parish dinner held at St Peter's College in Palmerston North has become the major event and fundraiser over the last few years. This is also an opportunity for the various cultural groups of the parish to present items.
St Mary's Parish has strong links with St Mary's School with whom we share the same site. Two classes attend the Friday morning Mass and all students attend the end of year school Mass. School students are trained to Altar Serve for these Masses and this flows on to Sunday morning Masses.
The parish is also fortunate to have several St Peter's College students involved in Altar Serving, Children's Liturgy, Liturgy of the Word and Eucharistic Ministers.
The St Mary's Parish also includes St Columba Church in Ashhurst, which is a small provincial town 10 minutes from Palmerston North. St Columba's has a parish roll of approximately 125 with Mass attendance at 30 to 50.

St Mary's Mass Times Sunday – 10.30am Week Day: Monday–Friday 9am (Tuesday 12.05pm)
Saint Columba's Mass Times Saturday – Vigil Mass 5pm Sunday – Latin Mass 12pm
St Mary's Church, Ruahine St, Palmerston North.


St Columba's Church, Mulgrave St, Ashhurst. Photos: WelCom

---
St Patrick's SVdP Conference, Palmerston North

Maurice Kerr, Treasurer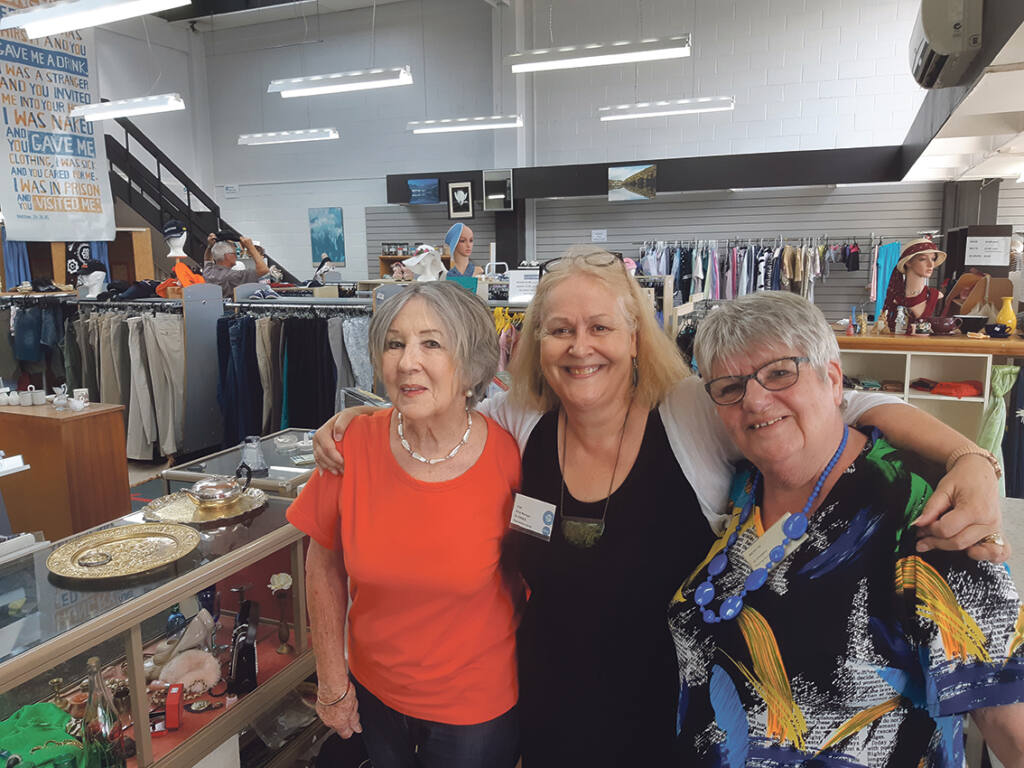 The Society has about 100 active members and volunteers in Palmerston North most of whom are from our local parishes including St Mary's. The Young Vinnies are active in St Mary's, Our Lady of Lourdes and St James Catholic Primary Schools and St Peter's College.
Members meet in the Cathedral of The Holy Spirit lounge twice a month on Tuesdays at 5.15pm, and new members are welcome.
During 2020 members made about 2000 visits among 4500 people.
Volunteers help in The Vinnies Shop while others work on the truck collecting donations and delivering goods to customers and welfare recipients.
Community work is driven by the needs of less fortunate people. All requests for help are met and members seek out socially isolated and people in need. We deliver food parcels, take Holy Communion to homes, provide Red Cross with initial food parcels for refugees, offer budgeting advice and advocacy, provide furniture, linen and clothing, supply firewood, organise emergency accommodation, visit rest homes, private homes, hospital patients and prisoners.
Community donations are the life blood of the Society thanks to parishioners, Catholic Schools and businesses for their goods, funds and food drives. During the Covid-19 crisis the Society received a marked increase in cash donations, so for the many weeks without Masses the Society was still able to help those in need.
Early on 29 November 2020 the Society's food store was burgled. About $1,200 to $1,500 worth of donated food and Christmas food parcels were stolen. When the news broke on social media we were inundated with food and cash donations from parishioners, other individuals and businesses. Even with this inconvenience the food parcel service quickly rebounded through the community generosity.
Special thanks to the priests and staff at our parishes who are always so accommodating, and to our parishioners and schools who volunteer their time and skills.
---
St Peter's College
Margaret Leamy, Principal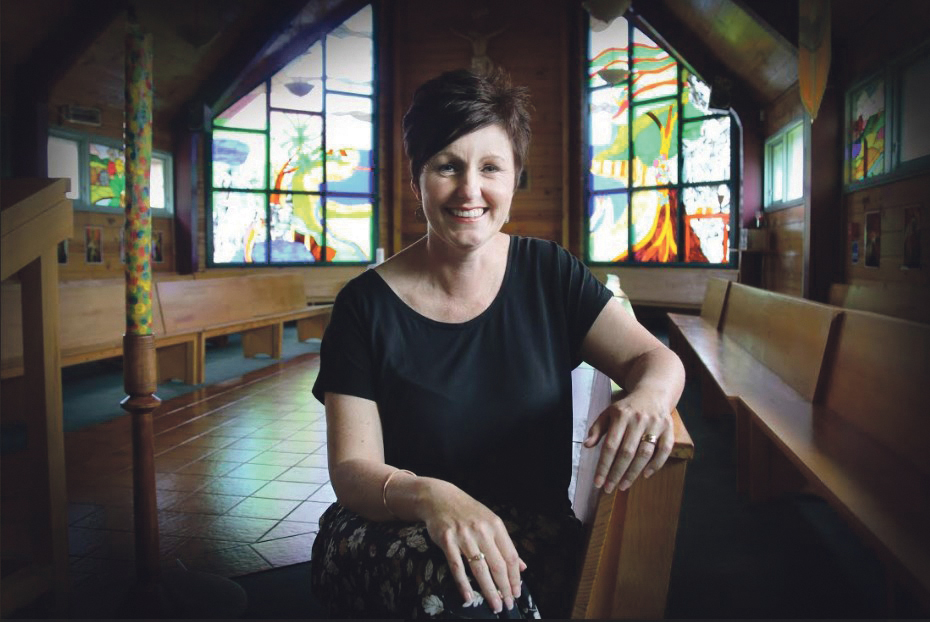 St Peter's College in Palmerston North was founded in July 1974 by the Mercy Sisters and Marist Brothers as a result of the amalgamation of St Joseph's High School, St Patrick's Intermediate School and Marist Brothers' High School. In 1982 St Peter's College became a state-integrated school.
At St Peter's we focus on providing opportunities to allow students to develop an understanding of how they connect to God in an environment where love, compassion and service are highly valued. The St Peter's College prayer challenges our students every day to 'live lives that matter, lives that change our world for the better' and 'eyes that see the needs of others and a heart that reaches out to fill those needs'. We believe this environment provides all our students with a set of values to navigate the inevitable moral conflicts in their lives and challenge a world that does not always reflect our Christian beliefs.
We commit to a focus on education and achievement. Our College has a very forward thinking vision and philosophy that has created a unique and innovative educational environment with our modern flexible learning spaces. We develop the ability to think, work collaboratively, meet challenges and promote self-management skills.
We develop strong partnerships between students, family – whānau and the College. Parent and student voices and genuine partnership are acknowledged in research as a key component in improving student achievement and engagement.
The College is committed to strengthening the partnership through our unique 'Connect to Succeed' programme, where every student and parent works with a 'Learning Coach'. The aim is to improve academic goals and achievement, planning and developing future focus skills. The needs of each and every individual are a priority for us so they can become the very best that they can be.
---
Past pupil is new St Peter's College principal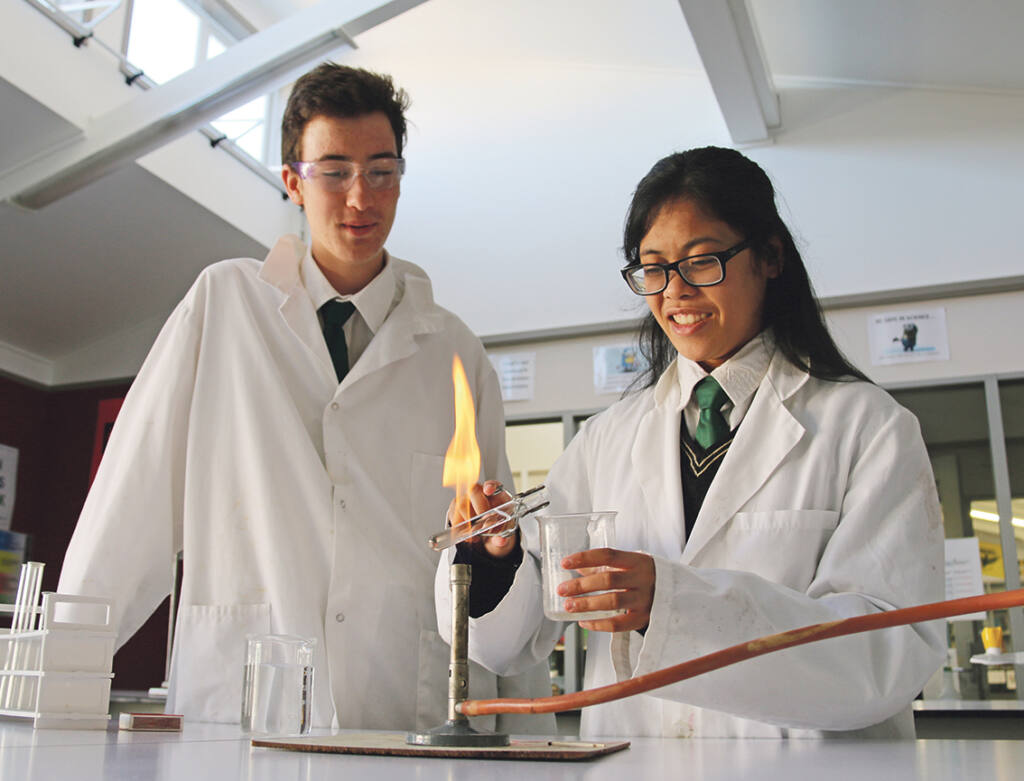 Mrs Margaret Leamy is the new principal of St Peter's College. Announcing the appointment in November last year, Board chair Teresa Shanks, said, 'We are delighted to appoint Mrs Leamy. Margaret is a St Peter's College 'past pupil' and comes with wide secondary and tertiary experience.'
Margaret was appointed as principal after five years as deputy principal and acting principal since September. She replaced Kevin Shore, who left earlier in the year to become chief executive of New Zealand Catholic Education Office and the Association of Proprietors of Integrated Schools.
Teresa Shanks said, 'Margaret has served our wider community on the Palmerston North Girls High School Trust Board, Chair of the Board of St James School, Palmerston North and supporting her parish community. The board is excited by her vision and her direction to continue to build our community of Catholic faith that is celebrated and lived, inside and outside the classroom.'
Margaret attended St Peter's from 1984–1988. She said becoming the principal at her old school made the job even more special. 'It's the values we grew up with. Through teaching, you're actually putting them into play and instilling those values into students is really important.' She says she wants to develop a curriculum for all students and cater for diverse learners. 'That's one key priority and the other is about continuing to grow our community, faith, culture and life – all the college things brought together in harmony.'
She said the school was on the right track and she wanted it to continue to grow. The school's roll is 720 at the start of 2021 year and is predicted to increase.
Prior to her appointment as deputy principal, Margaret was the National Co-ordinator of Secondary Social Sciences for five years. She also worked for Massey University as an Adviser in Social Sciences, and as Secondary Curriculum Professional Development Facilitator. She has also served on the New Zealand Teachers Council as a National Facilitator for Induction and Mentoring.
---
St Mary's Catholic School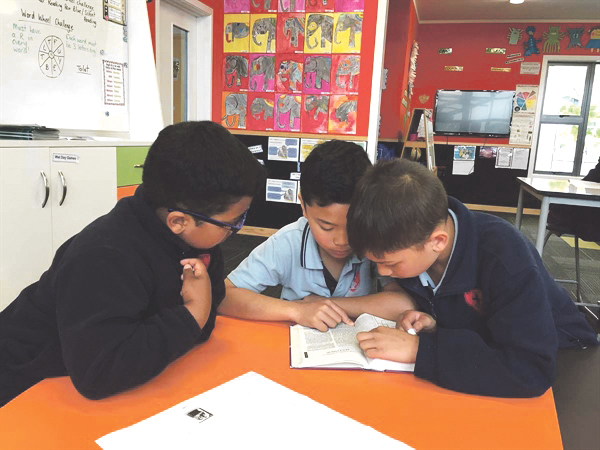 St Mary's special character goal states, 'St Mary's will be a community where gospel values are central, where faith is nourished, and where Christian celebration in the Catholic tradition is highly valued.'
The school opened on 1 February 1950 with 63 pupils and then was blessed and officially opened by Archbishop McKeefry on 12 February. Mercy Srs Hilary and Gerard were the first two teachers. Sr Hilary, principal, taught Standards One and Two, and Sr Gerard cared for the infants. A third room was used as a Mass centre, and a small room as a sacristy. The school became part of St Mary's parish in April 1951 and served as a school and church for many years. During the 1970s lay teachers outnumbered religious. Sr Quirke and Sr Gerard were the last teaching Sisters and were withdrawn at the end of 1980. Mr Campbell was the first lay principal. On 26 April 1981, St Mary's became an Integrated school.
Today there are close to 200 students – the highest number in the past 20 years. There are 10 teachers, including principal, Mr Suneal Singh, and eight support staff.
The school aims to treat every child as an individual and provide high-quality spiritual, academic, cultural, physical and social education in a caring Catholic environment. Religious education is integrated into school life. There is regular prayer in the classroom, assemblies and staff life. Active participation in Church liturgies is regular, and the parish-based sacramental programme involves parents, school and the parish.
St Mary's is committed to recognising and supporting Māori as Tangata Whenua while developing a community committed to and respectful of the diversity in its multi-cultural community.