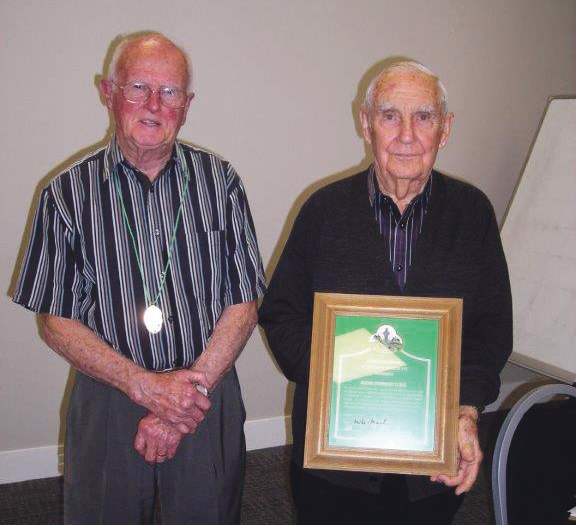 WelCom November 2020
A special presentation was made to Keith Stinson OBE at a Hibernian Society meeting in Hastings, October 7, 2020 in honour and recognition of his service as Patron of the local branch. Keith is a long-standing and dedicated member of the St Joseph's Branch 172 of the Hibernian Catholic Benefit Society. St Joseph's Branch President Mike Martin presented Keith with a framed citation in honour and recognition of his service.
Keith has lived a busy life of community service. He joined the Hibernians as a 20-year-old in 1946 and in a very few years became involved as an officer of the local branch, the New Zealand Society, and the Australasian Society. He is currently a mentor to the Hastings Branch executive who welcome his wise counsel.
As well as his dedication to the Hibernians, Keith was awarded the Order of the British Empire (OBE) at the Queen's Birthday Honours in 1987 in recognition for his services to the newspaper industry, Catholic Education, and the community.
Keith joined The Hawke's Bay Herald-Tribune, based in Hastings, as a clerk and soon afterwards as part of his daily duties, he oversaw the delivery of the newspaper to distribution agencies throughout Central Hawke's Bay. Promotions over the years resulted in Keith becoming general manager and later retiring as managing director of the company.
Around the same time as his OBE award, Keith also received a commendation from the Wellington Archdiocese – before the inception of the Palmerston North Diocese – for his services to Catholic Education.
The citation Keith received in October 2020 reads: "Keith Stinson OBE, as a loyal member and office bearer of both the local branch and the Society since 1946 will henceforth be named as the PATRON of St Joseph's Branch 172 of the Hibernian Catholic Benefit Society in recognition of his untiring efforts not only with the Society, but also with Catholic Education and the newspaper industry. Well done, thou good and faithful servant. October 7th 2020."
The Hibernian Society, St Joseph's Branch 172, Hastings was established in 1885.