Linda van Bussel rsm
On 25 February 2007 I professed my final vows as a Sister of Mercy at St Patrick's Church, Wainuiomata. It was the best day of my life. I was surrounded by the goodness of people who have supported me throughout my life.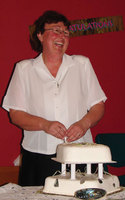 I am the second child of the late Agnes and Adrianus van Bussel, born and raised in Whanganui, and educated by the Sisters of St Joseph of Nazareth.
Moving to Wellington in April 1996 I knew that there was something more than the new position I had accepted as a nurse in Wellington Hospital's Emergency Department that was luring me to the capital.
I knew that God was calling me for something else. However, I did not know what that would be.
God's personal call to be a Sister came to me in August of that year. It was a total surprise and I remember laughing and crying at the thought of this. 'I am not holy. Why me, God?'
Stunned I said to God: 'You get me the information and the people to talk to.' Little did I know that that information would come two days later from a Catholic newspaper that I found in the waiting room.
Here I found out about the Mercy congregation. I wrote to Sr Elizabeth Julian who was named in the article, which led to having coffee with her and the seed of Mercy was planted within me.
From this meeting I was drawn to the Mercy charism. I learnt about our amazing foundress, Catherine McAuley, an incredible woman who trusted in the providence of God, who cared for the poor, the sick and the ignorant.
She had a keen interest in educating young women of the time so that they could find good safe employment and she and her sisters went out into the homes of the sick and cared for them there. She was literally one of the first district nurses and these skills were shared with the sisters who followed her.
In the Crimean War the Sisters of Mercy were able to pass these skills on to the soldiers and to Florence Nightingale, the administrator of the nursing system there.
Over the next nine years I journeyed with, and as part of, the Sisters of Mercy and it was with such joy and love of God that I stood in our parish church in Wainuiomata and professed my final vows in February.
Mercy keeps hope alive and living as a Sister of Mercy calls me to hope and trust in the years ahead.