Features
4 December 2012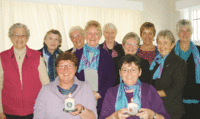 The two congregations of religious, Sisters of Mercy (rsm) and Sisters of the Missions (rndm) came together in Auckland in August to celebrate two of their youngest members being professed on the same day.
On March 18 2000, 12 and a half years ago Linda van Bussel was professed a Sister of Mercy in Wellington and, in Auckland, Helen O'Sullivan became a Sister of Our Lady of the Missions.
Though disappointed not to be present at each other's special ceremony, they take delight in sharing their profession date as committed religious women.
In the Dutch (Linda's family) culture, 12 and a half years is a significant celebration of commitment to vocation in whatever path so both have been eagerly anticipating the day when they could celebrate together and give thanks to God for their vocations.
Linda who hails from Whanganui is currently involved in ministry in Auckland and Helen, from Lower Hutt, is in Wellington.
Both Linda and Helen were joined by members of their religious community to celebrate this special milestone in their commitment to God and following in the footsteps of their foundresses – Catherine McAuley and Euphrasie Barbier.
Image: Theresa Greaney rsm, Alice Sinnott rsm, Marie Brown rsm, Leone McIndoe rndm, Patricia Rowe rsm, Adrienne Dunlop rndm, Leona Garchow rsm, Liz Beeler rndm and Geraldine Donovan rndm. Front: Linda van Bussel rsm and Helen O'Sullivan rndm