His childhood dream was not to be something mainstream like an All Black or a fire-fighter. He wanted to be a horse. He had always had an avid interest in the history of Australasian racing. The reality of the ambition did not appear to faze him – when family members asked, he would constantly claim, 'I just need plastic surgery to be a horse'.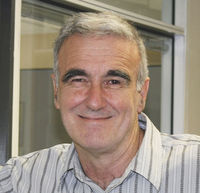 More 'realistic' pastimes involved music, especially jazz, and philosophy. He studied philosophy as part of a Bachelor of Music degree at Victoria University until it occurred to him, that university was not as engaging as he had hoped.
When Fr Kevin Connors speaks, one is drawn by his charisma. Everything he says about youth, the church and society's attitude towards Catholicism is fresh and intriguing. He could hardly contain his enthusiasm when the subjects of youth activities and past sermons came up.
Fr Kevin grew up the youngest of five girls and two boys. His talent and passion for music came from his father who taught himself to read music and pursued a successful career playing the tuba in the New Zealand Symphony Orchestra. His father's death in 1996 and that of his mother a year later, struck a chord and he struggled to 'see God'.
Fr Kevin's deep spirituality was formed through his Catholic family. He started 'looking for Jesus' and exploring the church for answers. The answer came to him in a vision. At the age of 16, his sister told him of a vision she had experienced. Fr Kevin received a similar vision, almost identical in content only a short time after. The vision 'overwhelmed me'. His encounter with a wounded Jesus Christ helped to strengthen his faith in the church and contributed to an ever-growing desire to propel himself into priesthood.
Later on his companionship with the poet, James K Baxter, in the early 1970s was a great influence on his religious morals. Baxter had a passion for the Lord, committed himself to praying the rosary daily, was an outright liberal and ultimately gave the impression of being a 'good Catholic' while being free to party with all. Fr Kevin referred to his friendship with Baxter as 'a mind-blowing experience' and, though Baxter's singular approach to morality did not always match Fr Kevin's, he says he was never led astray.
Another formative influence was the death by suicide of friend and parishioner Tim Olsen who was active in youth ministry, on the anniversary of Fr Kevin's ordination. This put an emotional strain on Fr Kevin yet enabled him to step back and piece a few things together. The vision he had of Jesus and Tim's death reflected what essentially Fr Kevin defines priesthood to be about, 'The hurtful and the wonderful'. The wounded, 'ugly Jesus' in the vision illustrates the wounds society was inflicting on him through sin, but the beauty of Jesus' face remained prominent. His questioning sent him on a search for 'a vaccine for suicide'.
Fr Kevin has learned to focus on a three-fold structure of church life − the tangible, institutional and doctrinal. His study of the mystical and emotional elements of the church has led him to identify these as key to enabling integration and contributing to a healthy spirituality.
Youth ministry is an aspect of the church Father Kevin enjoys. He is a regular at the annual 'Jesus for Real' camp in Paraparaumu.
Fr Kevin's emphasis on 'loveableness' is a predominant theme in his homilies – 'we are infinitely loveable and infinitely loved'. He is encouraged by the contemporary emphasis on lay ministry where, 'The participants of the church must acknowledge that the church's life comes from within the hearts of the people and we will love not as a guilty people fails to love, but as a people who acknowledge that we are made because …we are loved.'
This year marks Fr Kevin's 25th as a priest. He admits that without Charismatic Renewal he would not have become a priest. 'The youth and charismatic scene is alive with shared ministry' as in St Anne's Parish, Newtown, where Karen Holland works alongside him as a lay pastoral leader. He enjoys sharing in the full ministry of Jesus thus living out the Eucharistic reference, 'We are one body'.