On Saturday June 12, Te Kainga Catholic Marae and Community Centre in Kilbirnie played host to its first wedding. Pa Denis O'Hagan presided over the marriage of Kara Houia (Ngati Porou) and Hama Nepe-Apatu (Ngati Kahungunu).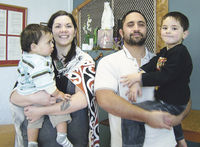 Kara and Hama and their sons Tawhiti (five) and Pateriki (one) have been part of the Te Kainga whanau for about five years. The wedding came as a surprise to both families and close friends who had just witnessed the baptism of Pateriki.
They were delighted to hear Pa Denis say 'We're not just gathered here today for the baptism of Pateriki but also for the wedding of Hama and Kara'. This was followed by a buzz of excited joy from those gathered.
Te Kainga was initially set up as a place for former students of Hato Paora College and St Joseph's Maori Girls College (Hato Hohepa) to celebrate their Maoritanga and their Catholic faith. So it was fitting that the first wedding held at Te Kainga was for former students of these colleges.
Another point of celebration was the connection with Pa Denis who was the chaplain at Hato Paora when Hama was there.
Br Dan Connell sm who worked at Hato Paora for 13 years introduced a surprise of his own to the wedding in the form of a rare whaikorero (speech) backed by an awesome waiata from the contingent of Hato Paora old boys, close friends of Hama.
Kara and Hama met at Victoria University where Hama gained a Bachelor of Arts in Maori Studies and Kara attained a Bachelor of Commerce and Bachelor of Arts. They are both staunch advocates of te reo Maori. Both of their boys were baptised at Te Kainga Marae.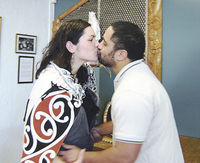 Last month, Hama thanked everyone at Te Kainga for their support during the wedding and baptism. He spoke of his childhood memories of attending Maori Mass at St Thomas More in Napier. Watching the Te Kainga children play reminded him of the kai after Mass, and the children playing together. He had been in the local Catholic kapa haka group called Te Whetu o te Rawhiti since he was a young child which he likened to Wellington's Nga Karere.
'The values we received, lessons we learnt, and the relationships formed within the Catholic Church are lifelong. These are the things I want for my boys.' When he reached Hato Paora, he knew most of the songs already from being at St Thomas More. 'Sundays were happy days.'
Hama also spoke of how things are a bit more flexible now at miha (Mass).
He remembers the children being dressed up and having to be on their best behaviour. Te Kainga has a more relaxed policy.
As Br Dan says 'You know the church has a future if you hear the sound of the children. The faith is caught, not taught.'