Palmerston North
Gwen Mardle
11 November 2011
Sunday congregations at Sacred Heart and St Peter Chanel parishes in Hastings have grown used to seeing groups of children sitting on the floor at the feet of the priest for their special homily.
A Mass with a special focus on children's needs was initiated four years ago by the parish priest at Sacred Heart, Fr Simon Story. He was inspired by what he had seen Fr Tom Lawn do at St Joseph's in New Plymouth.
'I could see it was a way of speaking to very young children. When you are able to look them in the eye, they feel more involved and it's easier for dialogue to happen.'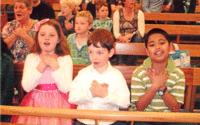 He admits that trying to link the gospel to their lives is still a 'big challenge' but hopes that the priest's homily-from-the-floor is an 'experience of faith that can't be specified.'
The children's homily is one piece of a whole liturgical effort to put the spotlight on children.
Through the two local primary schools, St Joseph's and St Mary's, the children prepare the prayers and the readings and participate in the singing. The bright, cheerful music of Andrew Chin is always a favourite.
'Children like the church to be alive,' says Theresa Brady, Room 7 teacher at St Joseph's. 'Chin is fun and at their level and children love to do the actions.'
Currently there is a children's Mass once a term at St Peter Chanel and on third Sundays at Sacred Heart. St Mary's School DRS Theresa Neilson enjoys the opportunity to engage pupils in worship.
'If it invites the children to participate meaningfully in the Mass, it has to be good,' she says.
Images:
Left: Fr Simon Story talks to the children on Fathers' Day about spearing flounder at Porongahau.
Right: Grace Mentzer, Philip Eldon and Alan Uthup sing 'These Hands' by Andrew Chin.