The Sisters of St Joseph of the Sacred Heart have verified a claim that their foundress Mary MacKillop was excommunicated because she reported priestly child abuse.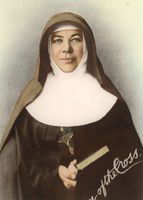 The report is in an Australian Broadcasting Corporation 'Compass' documentary to be aired on October 10, just a week before ceremonies in Rome recognise Mary MacKillop's sainthood.
An Australian Associated Press story published in the Sydney Morning Herald on September 25 reported the programme saying 'Bishop Lawrence Sheil ordered her excommunication after Mary MacKillop reported child abuse by Fr Keating from the Kapunda parish, north of Adelaide.
'MacKillop and the Josephite sisters reported the abuse to the vicar-general and disciplinary action was taken against Keating, humiliating him and angering a Fr Charles Horan, who was close to Bishop Sheil.
'Horan is believed to have harboured a grudge against MacKillop and the whistleblowers in her order and used his influence over the bishop to manipulate him into throwing her out of the church.'
A September 24 statement from a spokesperson for the sisters reads,
Mary MacKillop's excommunication from the church, for a period of five months from September 1871, is an event that has been comprehensively documented.
There were several factors that led to this painful period for Mary and the sisters. The reasons for Mary's excommunication have been written about and commented on in the public domain since that time. This is consistent with the information contained in the Compass program.
Mary MacKillop's excommunication has been the subject of many theories. The Catholic church's Sydney website sydney.catholic.org.au refers to 'alleged insubordination' while the sisters' own website, www.marymackillop.org.au speaks of an episcopal commission to investigate the sisters recommending that each convent be placed under the control of the local priest.
This 'went against everything that Mary MacKillop had worked hard to establish … and she wrote to Bishop Sheil outlining her concerns.
'The events that followed finally led to her excommunication on 22 September 1871.'
The website says that 'the excommunication was lifted five months later as Bishop Sheil was approaching death'.
Read more about the work of Mary MacKillop's Sisters www.welcom.org.nz/?sid=1430