Palmerston North
Carmel Cole
2 August 2012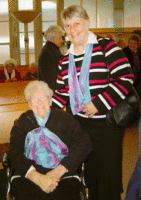 The Mission Sisters' presence in education in Taranaki was on show on Tuesday July 24 as they continued celebrations marking 150 years since the foundation of the Congregation of the Sisters of the Our Lady of Missions in Lyon, France.
The Sisters gathered with about 250 parishioners, friends, pupils and past pupils at St Joseph's New Plymouth for the fifth of the celebrations in the places where the congregation has made its mark.
Students from Sacred Heart Girls' College, St Joseph's New Plymouth, Stratford, Opunake, and Waitara, St Patrick's Inglewood and Kaponga, St John Bosco's School, Fitzroy and St Pius X School, Brooklands were introduced to the congregation as they processed into the church.
Many local priests joined Bishop Charles Drennan on the altar. Congregational leader Sr Maureen McBride came from Rome and spoke of the many jubilee celebrations that she has been able to attend in this year of Jubilee.
Although the sisters in New Zealand are now older and not as active in ministries Sr Maureen talked of the many younger sisters who continue the vision of Euphrasie Barbier in many other parts of the world.
Afterwards, friendships were renewed and memories shared over afternoon tea in the hall.
Image: Sr Marcella Roache who taught for many years, particularly in Waitara, and congregational leader Sr Maureen McBride formerly from Nelson but who has been based in Rome for the past 10 years.