Features
Mary Eastham
3 July 2012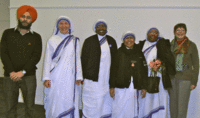 With the radiance of someone deeply fulfilled in life Sr Milada of the Missionaries of Charity based in Porirua shared the joys of her vocation to love God and serve the poorest of the poor with some 100 people on a May afternoon in Palmerston North.
In the Community Leisure Centre in Palmerston North on May 20, Sr Milada contextualised her own personal response to God's call to religious life within a narrative of her lived experience with Mother Teresa of Calcutta in India.
At 17 this vivacious young woman decided that the call to serve the poor was an opportunity not to be missed.
She believed that entering the congregation of the Missionaries of Charity would bring even greater joy than marriage and raising a family.
Sr Milada spoke with such great enthusiasm about living her vows of poverty, chastity, obedience and wholehearted free service to the poorest of the poor that she made this way of life sound very fulfilling indeed. And why not?
The suffering of many in contemporary society – not just the materially poor but those enduring the poverty of loneliness and being unloved – would suggest that the consumer society is not delivering the goods.
Sr Milada met Mother Teresa in India as part of her formation. She recalled Mother Teresa's sense of humour, her deep respect for every person regardless of social status and her profound love for the outcast at the margins of society. If we claim to love God who cannot be seen, we must love the poor who can be seen with tenderness and generosity.
Sr Milada showed film footage of Mother Teresa receiving a Nobel Peace Prize in 1979 for 'work undertaken in the struggle to overcome poverty and distress, which also constitutes a threat to peace'.
In her acceptance speech, she said:
'What can we do to promote world peace? Go home and love your family. Around the world, not only in the poor countries, but I found the poverty of the West so much more difficult to remove. When I pick up a person from the street, hungry, I give him a plate of rice, a piece of bread, I have satisfied. I have removed that hunger. But a person that is shut out, that feels unwanted, unloved, terrified, the person that has been thrown away from society – that poverty is hurtable [sic] and I find that very difficult.'
Sr Milada told the Palmerston North Interfaith Group event of a conversation she had had with a Muslim woman she met at a party. That they both were veiled attracted them to one another and provided the common ground for a very spiritual conversation.
She affirmed the objectives of the Interfaith Group which encourages people from different faith traditions to learn more about one another, share the common ground, establish confidence in one another, and participate in interfaith activities. These goals enable people from different cultural and religious backgrounds to build a culture of peace based on mutual respect and understanding.
PN Interfaith
The Palmerston North Interfaith group was established in July 2011 to continue the high level of interfaith dialogue in the Varied Viewpoints Interfaith Series in May. Here speakers from the Buddhist, Christian, Jewish and Muslim communities shared different religious perspectives on the issues of consumerism, population, war and interreligious dialogue.
Members include people with roots in the Jewish, Christian, Muslim, Sikh, Buddhist and Hindu faith communities. We meet once a month to learn from one another, celebrate our faith traditions, pray for peace and work to build bridges of understanding and mutual respect
The Palmerston North group is part of the nationwide interfaith movement whose purpose is to create a culture of peace, compassion, social justice and harmony. This project demands the active engagement of people of faith to emphasise precisely these resources within our religious traditions and apply them creatively to solve problems in the community.
Loving Porirua's marginalised
New Zealand is a first world country, yet many people experience both material poverty and the poverty of being unloved and unwanted. In Porirua, Sr Milada and her three sisters – Srs Anthony, Josica and Henrietta – touch the lives of people in nursing homes, young people who have lost their way and are looking for meaning and purpose, those with a lived experience of mental and emotional distress and those suffering from the poverty of loneliness. On Christmas Day, people with nowhere to go or no one to celebrate with, share the day with the sisters. These people are expressions of God's presence in our midst. Since we cannot see God, we must love God in the presence of the poor we encounter every day.
Mary Eastham of the Palmerston North Interfaith Group's leadership team is a member of the New Zealand Catholic Bishops Committee for Interfaith Relations.

Image: Srs Milada, Anthony, Josica and Henrietta of the Missionaries of Charity with Mary Eastham.