WelCom May 2020:
Emma Dodsworth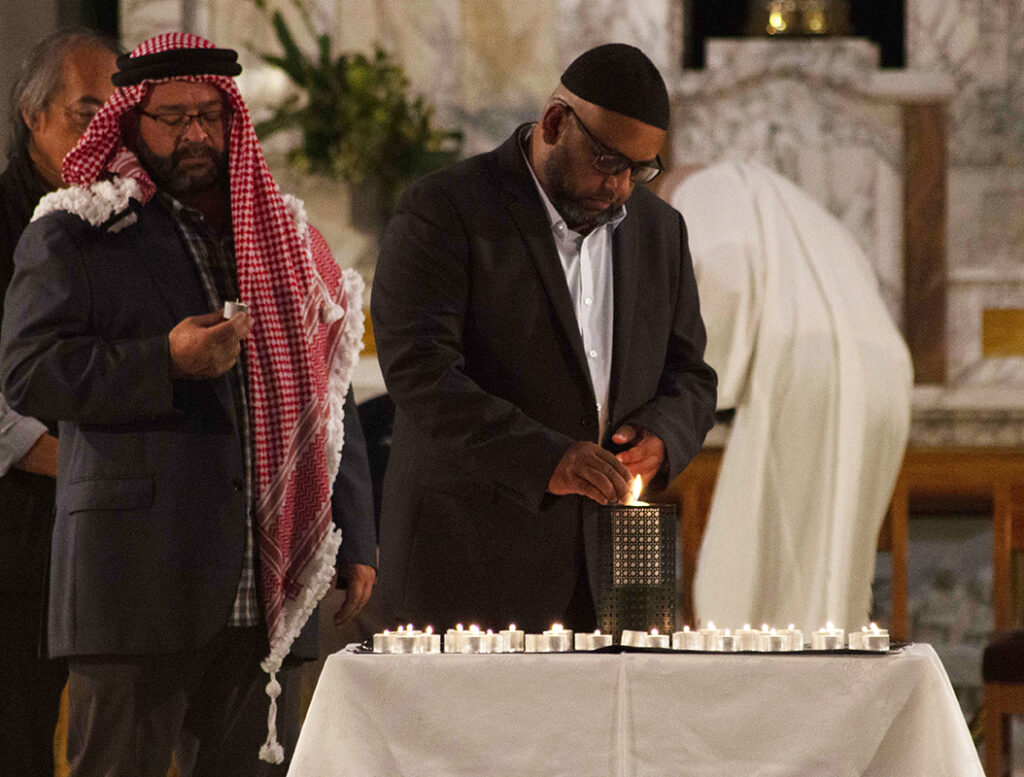 People of many faiths and cultures gathered for a vigil at the Cathedral of the Holy Spirit, Palmerston North, 7.30pm, Sunday 15 March, to remember the victims of the Christchurch mosque shootings a year on.
Guests included celebrants from Palmerston North's Muslim, Jewish, Hindu, Bahai'i and Buddhist communities, Catholic, Presbyterian and Anglican ministers, as well as civic leaders. They spoke about the impact the attack on their communities and the importance of supporting and loving one another despite differences.
Fr Joe Grayland, parish priest of the Cathedral of the Holy Spirit, said the gathering was an affirmation of the need for each other. 'This is proof that what happened is unacceptable to all of us. Tonight we gather to pray for the victims, their families, and peace and religious freedom throughout the world.'
Br Riaz Rehman, president of the Manawatu Muslims Association, thanked everyone for gathering in prayer. He said he and his fellow Muslims were 'honoured by your presence and strengthened by your friendship. Today we come together to experience the blessings of peace, the beauty of hope, the spirit of love (aroha) and the comfort of faith.'
Stuart Schwartz of the Jewish community read a prayer in Hebrew and English. 'These verses call us to not only love the stranger, but to love your neighbour as yourself,' he said. 'They guide us to offer total sympathy and support to those who now, a year later, are still recovering from the damage and trauma inflicted on them on 15 of March 2019.'
Palmerston North Mayor Grant Smith said 'New Zealand's and our way of life and our values of compassion, sympathy, kindness, respect, acceptance and understanding, underpin the duty of care Palmerston North upholds as an international city. We are home to thousands of migrants, former refugees, students, academics and researchers from all around the world, and as a civic authority we owe a duty of care to everyone who lives here. As we go from here, may we always remain mindful and caring of each other as members of the same community and above all – human family.'
The service ended with lighting 51 candles, in honour of the 51 victims of the attack, followed by three minutes of silence.