Palmerston North
Fr Kevin Neal
4 April 2011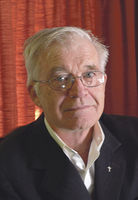 One of the great messengers of classical music for ordinary folks is violinist Andre Rieu. For some reason my friends are sure that I won't like his style because he makes his music so accessible. They must be convinced that I am a musical snob for some reason! Not so.
Andre Rieu is a Dutchman who has tried very hard to bring himself to the forefront of classical music and obviously loves it with all his heart. He's a classical violinist and he is up with the very best of them. It was his wife who urged him on, and if my memory serves me correctly, has become his business manager. His gift is to make music in every corner of the world and each with a little local flavour.
You can imagine how long and with what effort it has taken for him to get there. He has had his share of disasters especially in the early days. I have listened to at least 10 of his CDs and watched his TV shows on several occasions. Very simply, I think he and his orchestra are brilliant.
As with James Last and his orchestra who carried the European flag before Andre Rieu and Phil Coulter, who is doing the same for the music of Ireland, it has been a slow road to success but the ordinary people have recognised their greatness, bought their tapes, LPs and CDs, attended their concerts and helped them to make history.
Probably the Finn brothers are doing the same for this country as people recognise the timelessness of their music. Kiri Te Kanawa did the same when she sang at the millennium concert in Gisborne and at the vineyards in Napier. She made Kiwi music available to the ordinary person who wanted to buy a ticket. And they certainly wanted to.
We live in interesting times. In the church there is no longer a priest for every purpose. The person with a PhD in theology is just as likely to be a lay person as a priest. God seems to be giving the church to the widest circle of believers in every aspect of its life. Like these great musicians the church belongs to everyone and, ever so gently, the church's leadership is being changed, too.