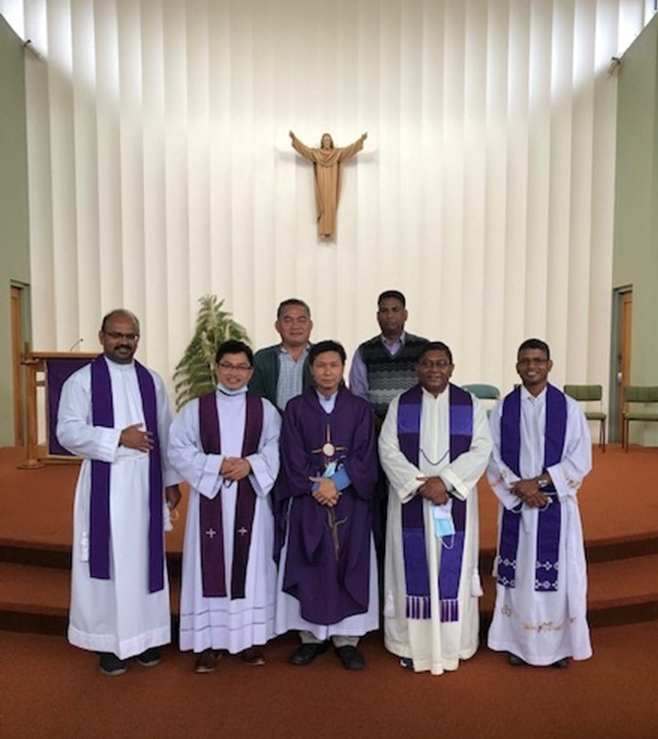 WelCom June/July 2022
Palmerston North diocese's international priests gathered at St Mary's Church in Palmerston North, on April 11, to appreciate and farewell Fr Joseph Saw Tha Khu from Myanmar. Fr Joseph officiated at the special thanksgiving Mass. A small reception followed to wish him all the very best and good health for his next mission.
Fr Joseph and Fr Anthony Zaw Tun from the Archdiocese of Yangon in Myanmar were welcomed to the Palmerston North diocese in 2019. They have been active in parish ministry in diocese.
Fr Joseph was ordained a priest at Our Lady of Lourdes Church, Nyaunglebin on February 11, 2012, and has served in Nyaungdon, Yangon, Pyapon and Ahlone in Myanmar and in the Solomon Islands. He has been assistant priest for the Parish of Hawera since 2020. This year, he has been based in Stratford to serve collaboratively with Fr Craig Butler (Hawera) across the South Taranaki region, including Stratford, Kaponga, Eltham, Hawera, Patea and Waverley.
Fr Joseph has since returned to Myanmar.