WelCom October 2018: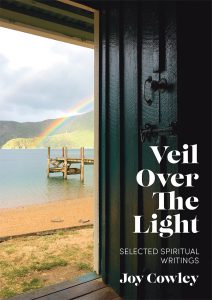 A new book of spiritual reflections by Joy Cowley, one of New Zealand's favourite and most influential spiritual writers, is to be launched at St Joseph's Church, Mt Victoria, at the end of October.
Veil Over The Light – Selected Spiritual Writings by Joy Cowley will be launched on October 27 at 4pm. WelCom readers are warmly invited to attend.
'Joy's spiritual writing has challenged, encouraged and uplifted thousands of readers over decades,' says Mike Fitzsimons, publisher of the book. 'Veil Over The Light is a wonderful selection of her luminous writing – reflections, stories and poems. As always, her writing is accessible, compassionate and hugely encouraging.'
At Joy's request, the reflections in the book are complemented by a series of photographs, taken by Mike Fitzsimons.
'These reflections began with prayer and most were shaped for retreats and published articles,' says Joy. 'In this book, the photographs return them to prayer. I suggest that readers sit with Mike Fitzsimons' illustrations, and feel their stillness dissolve into a prayer of the heart.'
The book's spiritual wisdom will speak to people of all ages and circumstances, says Mike Fitzsimons.
'These writings are the fruit of a lifetime's spiritual endeavour, a guide to the spiritual life written by a poet and fulltime practitioner.
'The great Catholic theologian Karl Rahner once wrote about the future of Christianity in this way: "In the days ahead, you will either be a mystic, one who has experienced God for real, or nothing at all."
'Joy's great gift is to able to describe in a very compelling way what it is like to experience God for real. Reading her reflections is a journey away from the peripheries of religious practice to the heart of the Christian life, the living water.
'It is a privilege to be the publisher of such an important, life-giving book.'
Copies of the book will be available post-launch from Unity Books, Willis St, Wellington and online from www.christiansupplies.co.nz