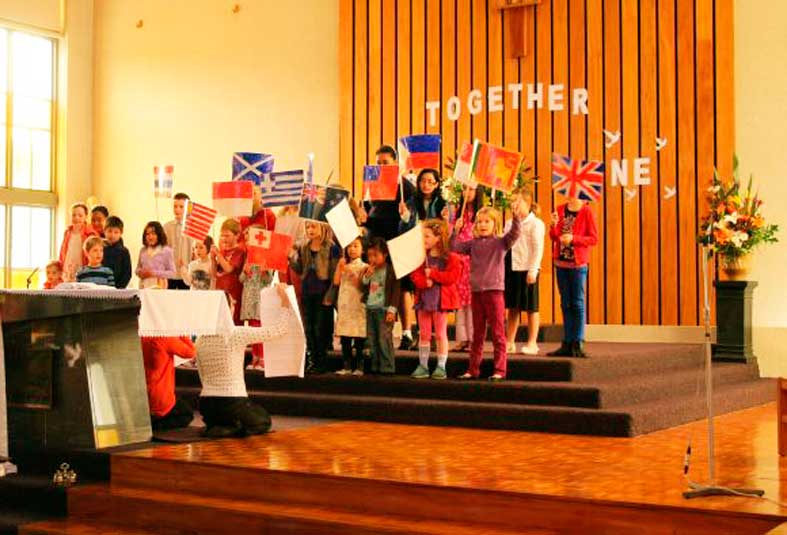 July 2014
News

Dave Ross
The Catholic Parish of Otari now consists of St Teresa's Church Karori, St Thomas More Church Wilton, and Cardinal McKeefry and St Teresa's primary schools. The formation of the new Catholic parish was celebrated on Pentecost, 8 June, with a vibrant muti-cultural Mass.
This was concelebrated by Archbishop John Dew and Fr Kevin Purcell with the parish choirs of the Tongan and Filipino communities, and the Sunday and folk group choirs who each led parts of the Mass and congregation in their singing. Two candles were processed in, one for each church community, and a candle with a double wick, to signify our 'coming together as one,' was lit from each of these. Some parishioners dressed in their national dress and the Tongan community processed in with the Lectionary of Readings for Archbishop John in a slow and reverent display of respect and courtesy. It was exciting to see a church full of people sharing their gifts and talents in such a visible way.
Proclaiming the Pentecost theme of being filled with the Holy Spirit, Archbishop John Dew encouraged all parishes to step out and share our faith with others. '…we have a great gift that is to be shared, not kept as private. In this parish of Otari we are asked to announce Jesus in such a way that he is accepted by others, not rejected. This isn't always easy but it doesn't actually depend on us. It depends on the power and wonderful presence of God's spirit.'
Current parish priest Fr Seph Pijfers is overseas on sabbatical leave. Lay parish leader Mary-Anne Peetz is administering the new parish at present, dividing her time between Karori and the Northland/Wilton areas. Her cheerful countenance and outlook have been welcomed around the parish. 'I see coming together as a larger parish community is a wonderful opportunity to create a parish that is welcoming, hospitable, inclusive, nurturing and alive with new potential. It's an exciting time to be Church and I look forward to the future with enthusiasm.'
A cup of tea and a special celebration cake concluded Otari's Pentecost Sunday.