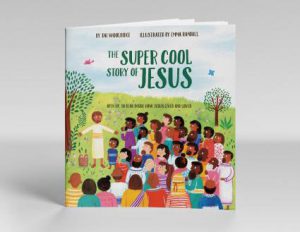 WelCom April 2018:
Sarah Richards
This Easter, Bible Society New Zealand is giving away 100,000 copies of The Super Cool Story of Jesus.
They want to tell the message of who Jesus is to children nationwide.
'This opportunity could have a remarkable impact on thousands of Kiwi children in 2018,' says BSNZ Programme Director Stephen Opie. 'It is a chance to get the story of Jesus into the hands of children who may not have heard about Jesus before.'
This creative child-friendly book tells the story of Jesus' life and includes Easter events in playful, rhyming language with fun pictures.
Children's author Joy Cowley says the book's illustrations are 'stunning'. 'It's such a pleasure to see the story of Christ Jesus in a multi-cultural context, beautifully designed. These illustrations will appeal to children, enhancing a message of love and light.'
Stephen Opie says, 'We hope The Super Cool Story of Jesus in children's hands this Easter it will ignite their curiosity about Jesus, sparking further questions and leading them to the Bible. We pray this resource will help children understand the true meaning of Easter and that parents, families and friends will engage with passing it on to the next generation.'
Parenting expert, co-founder of the Parenting Place and founder of Faith4Families, Mary Grant says, 'Of all the ways we care for our children, it could be said, for Christian parents, passing on our faith is the most important…Not just by living it but by talking about it at every opportunity, and when our children are most receptive.'
BSNZ will be working with partner organisations to get free copies of the book to families. It is available free to individuals or in bulk orders to churches for Easter activities. To order a copy go online to:
www.biblesociety.org.nz/supercool
Sarah Richards, Communications Specialist, NZ Bible Society.