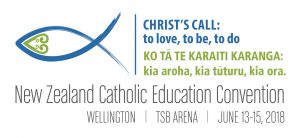 WelCom June 2018:
Te karanga ta te Karaiti: kia arohaina, kia ora, kia tina – Christ's call: to love, to be, to do.
Susan Apáthy
Teachers and other Catholic education leaders will meet in Wellington this month, 13‒15 June, for the triennial New Zealand Catholic Education Convention.
On offer is a full and stimulating programme of keynote presentations, 50 seminars, and rich professional development.
Three international guest speakers include: Daniel Horan ofm, visiting Assistant Professor of Systematic Theology at Catholic Theological Union, Chicago; Professor Br David Hall fms, La Salle Academy, Australian Catholic University; and David Wells, Director of Religious Education for the Diocese of Plymouth, England.
Delegates will have the opportunity to tour Wellington sites of importance to the life and work of Suzanne Aubert; honour the latest work from the National Centre for Religious Studies; and Sir Br Pat Lynch will discuss his memoirs, A Life in Education and New Zealand's Integrated Schools 1976-2016.
This year, as well as the prestigious Laureate Awards, a new initiative will see the inaugural awards for outstanding tertiary educators given jointly by The Catholic Institute, Good Shepherd College and the New Zealand Catholic Education Office.
Catholic schools make up 8.4 per cent of the total schooling for New Zealand children, providing education for some 66,000 children. It is a high-achieving sector closely aligned with the mission of the Church. The convention aims to strengthen the sense of community and renew mission.
Susan Apáthy is Deputy CEO NZ Catholic Education Office.
For more information go online to conference.co.nz/nzcec18 and to register.