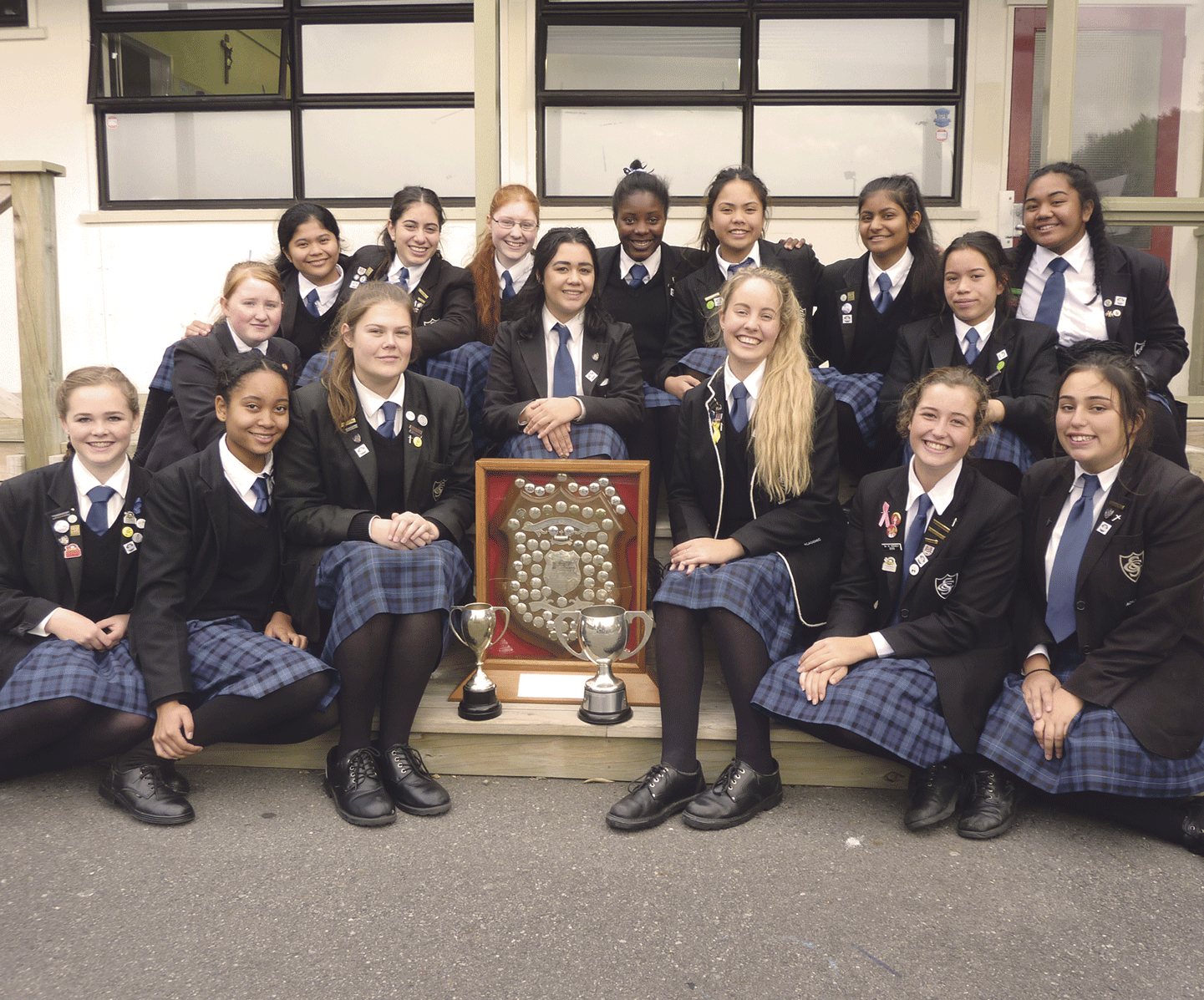 June 2015
Schools
For the third time in a row, St Catherine's College Kilbirnie, one of Wellington's smallest high schools, has won the O'Shea Shield public speaking and drama competition.
Over the weekend of 1–3 May 2015, 17 Catholic colleges from the Archdiocese of Wellington and the Diocese of Palmerston North competed in eight public speaking and drama events. The event, with the theme 'I will show my faith by my deeds', was hosted by St Patrick's College, Wellington.
St Catherine's Principal Mrs Mary Curran said, 'We were delighted to win the O'Shea Shield again. Every year the standard of performance of all the colleges is outstanding, making this a tough competition.
'Our whole school community is enormously proud of our team of 16 girls. They worked hard and conducted themselves with skill, dignity and grace. The teachers who worked with the girls outside of school time also did a brilliant job. It is really exciting to see what a small school and team can do.'
Head Girl Anna Cacace says, 'We went into the O'Shea Shield weekend focused on doing our best. Being one of the smaller schools, we knew the competition was going to be hard. To win is just a dream come true. I can't stop smiling!'
The O'Shea Shield competition has been going for 69 years, and is hosted by a Catholic college in the Archdiocese of Wellington or the Diocese of Palmerston North. The event is also about building friendships and sharing hospitality between students, staff and supporters from the schools.
St Catherine's College has a long history of public-speaking events said Mrs Curran. 'From when the Sisters of Mercy founded St Catherine's in 1919, right through to today, there has been an emphasis on our girls having good public-speaking training and opportunities.'
Jenny Gordon, Vicar of Education for the Archdiocese of Wellington, commented, 'Occasions such as the O'Shea Shield provide opportunities for our Catholic youth to gather and magnify their spiritual commitment, Catholic identity and faith formation.'
St Catherine's 2015 coaches and teams were: Mrs O'Brien and Ms Walsh (religious questions – Sasha Aizpuru, Clare Sullivan and Kuini Vidal); Ms Willis (scripture reading – Clare Sullivan); Matua Henry (te reo scripture reading – Hariata Moriarty); Mrs McDonald (oratory – Terena Federico); Mr Kaulback (junior prepared speech – Kaira Scheck); Claire Hewitt (religious drama – Anna Cacace, Hannah Durojaiye, Madeleine Reese, Bridget Sullivan, Demesha Whyte and Bennette Yee); Mrs Ryan (impromptu speech – Eva Malthus; and debating, assisted by Victoria Casey and Julie Vidal – Clare Lewis, Elisha Prasad and Amy Campbell).