Palmerston North
Lisa Beech
8 February 2011
Palmerston North Diocese social justice animators are invited to a formation and preparation day for Lent at the Diocesan Centre Te Rau Aroha on Saturday March 5, 10am until 3pm.
Lent is a time of prayer, fasting and almsgiving. This year the Caritas Lent appeal and associated reflection programme take the theme 'United by our common humanity', inviting us to grow in our practice and understanding of being one human family.
Caritas Board incoming chair Mark Richards will speak about some of the current issues facing the Catholic agency for justice, peace and development. Changes to government policy on overseas development assistance mean that government support for Caritas programmes has been substantially reduced. This has jeopardized partners and programmes in the Pacific, Asia, Latin America and Africa which New Zealand Catholic community has supported for many years. Mr Richards says the ongoing support of the Catholic community is crucial at this time.
Caritas staff members Lisa Beech and Diane Taylor will introduce and explain the Caritas material. They are also available to provide support and encouragement to people supporting and running the appeal and reflection programmes in parishes. The Lent appeal material in 2011 features Caritas development projects in Nepal, Samoa, Tanzania and Nicaragua, as well as advocacy work in New Zealand. The Lenten reflection programme invites participants to reflect on the six Lenten gospels in the light of the New Zealand Catholic Bishops Conference statement A consistent ethic of life, from which the 2011 Lenten theme was taken.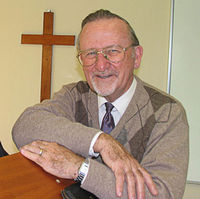 Palmerston North social justice adviser Rex Begley encourages all those interested in social justice and the development work of Caritas to come.
'It is a good opportunity to meet others who have taken on roles as social justice animators or contacts in parishes, to share experiences and to spend some time considering the issues and material that Caritas has prepared this year.'
For more information, contact Rex Begley 06 354 1780.