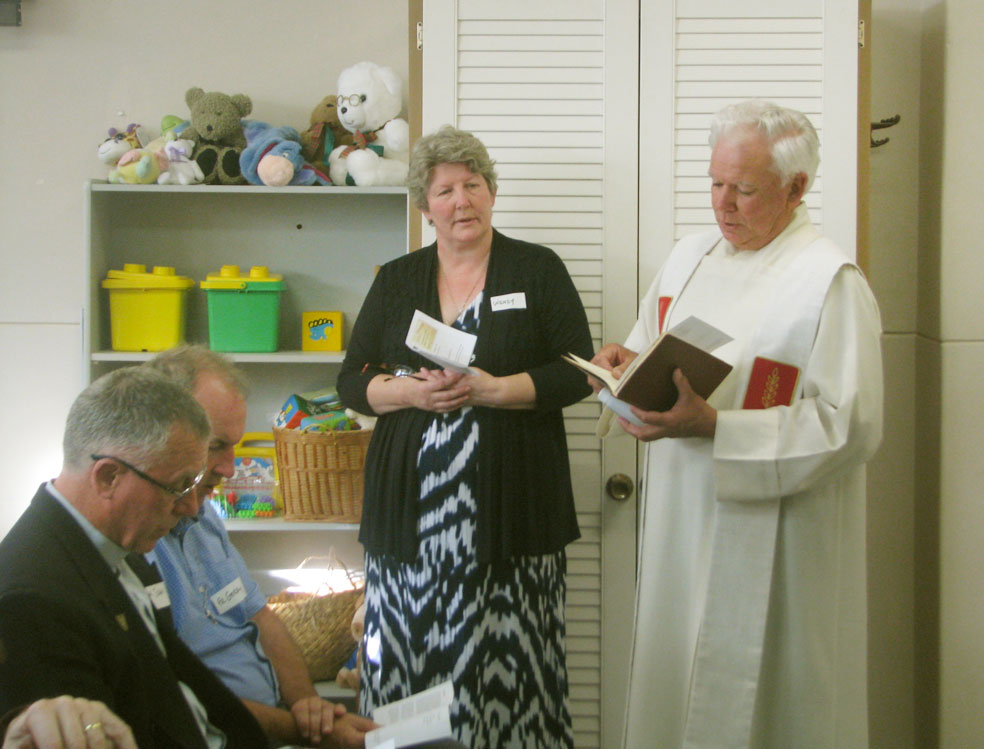 News

April 2014
Suzanne O'Rourke
A Catholic-led charitable trust Greenstone Doors has opened in central Lower Hutt offering coordinated counselling and support services for new parents and those who have experienced pregnancy loss.
The trust held an opening ceremony to bless the volunteers and their work at its Dudley St premises on 12 March.
More than 80 invited guests, including Archbishop John Dew and Mgr Gerard Burns, members of the diplomatic community, representatives from Great Start Community House and the Hutt Chamber of Commerce, friends, family and supporters joined Fr Bruce England and the trustees for the opening powhiri and blessing.
Greenstone Doors Charitable Trust began operating support and counselling services a couple of years ago, says founder Wendy Hill. The post-abortion support and the teen-parent work followed other, established activity, such as Rachel's Vineyard Retreats and pregnancy counselling.
'Our services now include free pregnancy tests, confidential counselling, an ABC playgroup for young parents, a Great Fathers programme, free baby clothing, a 'New Baby Now What?' programme, natural fertility seminars and a Wildflowers support group for those who feel the effects of abortion.'
The idea for the services offered through Greenstone Doors took shape after Wendy visited the Open Doors family counselling practice in Melbourne. 'We couldn't use that name, but it started us thinking about how we would describe a place that treated everyone who entered it as a treasure. Pounamu is used here to signal important events such as the settling of disputes and reconciliation between peoples. We wanted the greenstone to remind us of the dignity of everyone who comes here.'
Until the move to central Lower Hutt, the Free Baby Clothing service and ABC Young Parent Playgroup were being run from the Great Start Community House in Taita, while support group meetings and counselling services happened in a range of locations, including Ss Peter and Paul Catholic Church.
Wendy says establishing Greenstone Doors as a charitable trust has been an important step in safeguarding this work. 'It's easy to get caught up in your own activity and lose the gift of working with others. Securing the Dudley St premises was a 'huge act of trust' and networking with other organisations is important. When people come in for the free baby clothes, they often reveal other needs.
They might be living in violent or overcrowded situations. It's great to be able to connect them with St Vincent de Paul or other agencies and know that they will be looked after. 'Wrap-around' services are so important for people who might be feeling overwhelmed with an unexpected pregnancy, a new baby or a change in their life circumstances. Above all, people need a safe place to talk and that's what we have set up Greenstone Doors to be,' says Wendy.
The Trust is founded on Christian values. 'Mary's 'Yes' to Christ is a beautiful model for us. We don't judge. Our job is to love everyone who walks through the door. Everyone has a little of Christ to share.'
Open daily from 12.30pm to 5pm. Contact: info@greenstonedoors.co.nz, 027 254 9222, or (04) 566-5037.