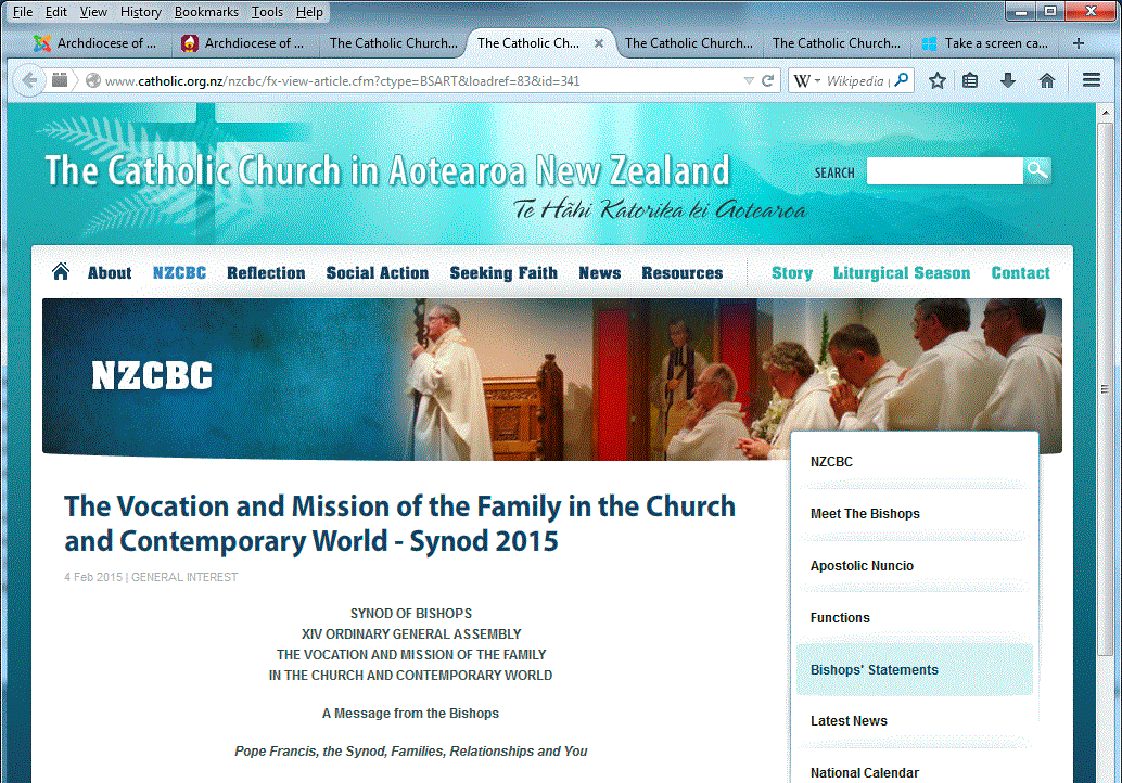 March 2015
News
Simone Olsen
Pope Francis' voice resounds in the media and in our homes. His extraordinary effect invites us all to consider: what is the impact of our 'voice', our witness, in the environment in which we live and work?
We can make that kind of reflection as individuals or collectively as a faith community. In fact, a synod brings both those streams together. Invited individuals head to Rome not as soloists but as men and women who seek to echo the wisdom and insight that emerge from a collective period of prayer, listening, consultation, and deep reflection.
Encouraging people to respond individually or following group discussion, the Catholic Bishops of Aotearoa New Zealand invite people to add their 'voice' to the global discussion that began last year ahead of the Synod of the Family in Rome in October 2014.
The Synod has entered a new phase. Pope Francis asks us to focus on practical pastoral approaches that uphold and strengthen the beauty of married life, and also accompany and guide those whose relationships are not unfolding within the bond of marriage. To this end the Holy See has sent a further survey to all Catholic Bishops Conferences and communities across the globe.
The Catholic Bishops of Aotearoa New Zealand are inviting people to contribute to this new phase of the conversation with their own insights and ideas ahead of the Synod in Rome later this year.
'We are acutely aware of the many people who in their hearts consider themselves Catholic but are not regularly at Church. Please encourage these family members and friends to participate. Of particular interest to us are those who see themselves as beyond the Church: perhaps some divorced and remarried, or gay women and men. We urge you also to add your experiences through the questionnaire. No-one walks beyond the reach of the Good Shepherd.'
The Bishops have made the questionnaire available both online and as a Word document. Everyone is invited to contribute to this new phase of the conversation with their own insights and ideas by Monday 9 March 2015.
The wording of the questions is that supplied by the Holy See in the Lineamenta (preparatory document) for the Synod Assembly.
Some of the questions may resonate more with some people than with others and not every question need be answered. But through Facebook, websites, and printed booklets, your voice as well as those of targeted groups such as our priests, religious education teachers, marriage preparation teams and so on will be heard. In this way we will deepen our knowledge of who we are as the people of God in Aotearoa and our submission will be a truly collective response to the Holy Spirit's ongoing work within each of us and the Church here.
Bishop Charles Drennan of Palmerston North will be the New Zealand Bishop participating in the Synod in Rome later this year.
To take part in the Pope's survey about family and relationships, visit www.catholic.org.nz. You can fill in the questionnaire directly online, or complete the Word document electronically and return it by email. If you would like a printed questionnaire sent to you (to fill in and return by post), contact Simone Olsen at or by phone on (04) 496-1725.
For any enquiries about this consultation process please contact Simone Olsen on the above email or phone number.
Simone Olsen is the Communications Adviser for the New Zealand Catholic Bishops Conference.