Carrie Watson
2 August 2012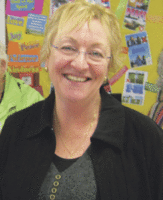 On Friday June 29 staff, students, parents and friends of St Teresa's School, Featherston, farewelled our beloved principal Carol Pilcher. The two main themes of our celebration were candles, a personal love of Carol's and leadership, something she instilled in everybody connected with the school.
Carol had been associated with St Teresa's School since 1976 when she took the senior class for PE/sport one afternoon a week while then principal Brian Moisley looked after her three daughters and completed paper work. From 1977 Carol wore the parent hat at St Teresa's for 18 years until her son finished in 1995.
Carol taught at the school from 1986 to 1991 and several of the students today have parents who had her as a teacher.
In 2003 Carol was appointed principal which fulfilled a personal goal. The roll at the time was 89 children and over the years the roll peaked at 143. Since 2005 the school continually went over its maximum roll of 125 and in 2010 we finally were grant our roll increase to 150. There was much paper work completed over the years and this was a real celebration – the icing was the new building this year, something Carol was able to officially open before she left.
Carol was always doing an 'extra something' for the community of St Teresa's School, from coaching sport to having a 'chat' to leaving words of thanks, support and lollies in staff pigeon holes! These were always on top of her huge 'to do' list and are things that were very much appreciated by staff and students alike.
We wish Carol well in her new adventure at Karori Normal School.
Image: Carol Pilcher, former principal of St Teresa's School, Featherston.