Helen O'Sullivan RNDM
2 August 2012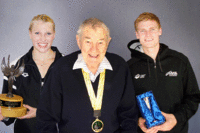 With two of his grandchildren representing New Zealand at the London Olympics, Bernard O'Sullivan of Lower Hutt is one extremely proud and happy man.
Bernard's identical twin daughters Janice and Philippa each had one child as competitors in the New Zealand contingent.
Stephen Jenness is in the Black Sticks hockey team and Samantha Lucie-Smith is in the 4 x 200m swimming relay team.
Bernard and his late wife Margaret were involved in sport all their lives excelling at tennis, netball, rugby and table tennis and they encouraged their six children to participate.
They also took great delight in following the achievements of all their grandchildren.
Margaret was one of the McNeill sporting dynasty from Petone.
Family genes must play a role in sporting leadership because other members of the extended McNeill family have been provincial and national representatives in a variety of sports, including a Commonwealth Games table tennis bronze medalist, but Stephen and Samantha are the first Olympians for the family.
Stephen was in the Gold Medal Team which won the Azlan Shah Hockey Tournament in Malaysia in June 2012 and the Bronze Medal winning 2010 Commonwealth Games Hockey Team in Delhi.
Samantha has broken many New Zealand age grade records, was a Silver Medalist at the World University Games in Shenzhen, China, in 2011 and has represented New Zealand at Junior Pan Pacific Games since 2008. She was recently awarded the Wellington 2012 Emerging Sportswoman of the Year. Stephen (22) and Samantha (20) have every prospect of repeating their success at future Commonwealth or Olympic Games.
They certainly didn't lack support – their proud grandfather and extended family and friends at home and abroad cheered them along. With great excitement, Stephen and Samantha were joined in London by their mothers Janice and Philippa and uncle and aunt, Anthony and Doreen O'Sullivan from Canada.
Image: Samantha Lucie-Smith holding her Wellington Emerging Sportswoman of the Year award, Granddad Bernard O'Sullivan wearing Stephen's Azlan Shah winner's medal and Stephen Jenness with his NZ Hockey 50 test goblet.