Features
Mary Eastham
2 August 2012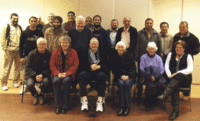 With the month of Muslim spiritual and bodily purification that is Ramadan starting late in July this year, the Palmerston North Interfaith Group came together on July 9 to hear Dr Ibrahim Al-Bahadly of Massey University bring greater understanding of the practice.
Ramadan is to Muslims what Lent is to Catholics – a time of intense prayer, fasting and charity to purify our inner lives and renew our relationship with God (Allah in Arabic). It is the ninth month of the Islamic calendar, and began on July 20.
The fast consists of total abstinence from food and drink from dawn to dusk and gives Muslims an opportunity to cultivate the desire to turn away from sin and embrace a life of virtue.
Virtues encouraged in Muslims are familiar to Catholics and include forgiveness, gratitude, moderation and restraint, charity, courage and fortitude, concentration, will power, self control.
A further link with Catholicism and its social teaching is in the focus on social justice that Muslims observe during Ramadan.
Individual acts of charity on behalf of marginalised people are important, but they are mere bandaids on the open wound of poverty and unemployment – both social evils caused by economic and political policies which favour the interests of the wealthy.
Overconsumption and Starvation
The rigorous fasting expected of healthy Muslims and the fact that this discipline is joyfully accepted and scrupulously observed so as not to damage health, calls into question the current obsession in 'developed' countries with food, not to mention the fallout from overindulgence.
Images of food – fast food, gourmet food, cooking programmes – dominate the media.
These can often be seen juxtaposed with photos of malnourished men, women and children from the Third World. Such images reveal the structural nature of both overconsumption, a creature of the advertising industry, and the destitution which is the result of unsustainable development policies. Such policies based on first world economic models have not created just and egalitarian societies in the third world. Far from it!
A Muslim brother from Pakistan remarked that abstaining from water during Ramadan always reminded him that water was sacred, because having access to fresh water meant the difference between life and death for many people.
In desert countries and countries like Pakistan with rugged mountains and vast plains, water means life and survival, as well as being cleansing and refreshing. No wonder it is a sacred symbol in many faith traditions.
Interfaith events often facilitate extraordinary encounters among people from different cultures and faith traditions. The interfaith event in Massey University's Te Waiora Centre brought together Muslims from Iraq, Pakistan and Sudan, Christians (Catholic, Anglican and Presbyterian) from England, Ireland, New Zealand and the United States and our Sikh brother, Jaspreet Singh from India.
Dr Al-Bahadly comes from the cradle of Western civilization and the birthplace of writing and law, Iraq. He lectures in the School of Engineering and Advanced Technology at Massey.
Mary Eastham is a member of the New Zealand Bishops Committee for Interfaith Relations, a member of St. Brigid's parish in Feilding and chairperson of the Palmerston North Interfaith Group.
Image: Standing: Dr Ibrahim Al-Bahadly from Iraq is fifth from the right, Jeff Bignall from St Brigid's parish Feilding far right on the end.
Seated: Mike Christensen, Presbyterian, Alison Stewart, Rev Gordon Hall, Presbyterian, Susie Logan OP and Cecily Finucane RSM from St Mary's parish, Palmerston North, Debs Radley, Presbyterian
Leadership team of the Interfaith group are: Bob Skipp, Presbyterian, last row, second from left; Jaspreet Singh from India, Sikh, first row standing, second from left; Peter MacGillivray, Presbyterian, third from left.
Among the Muslim brothers whose presence made the evening so special are: Abdur Rehman Cheema from Pakistan, next to Peter, first row standing, and Saad Al-Harran from Iraq, back row, third from the left.