WelCom December 2020
Karen Saunders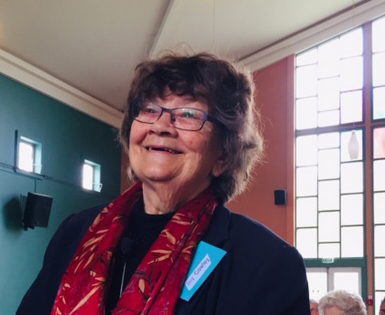 More that 80 women attended a Catholic Women's League day of reflection, in November, facilitated by Joy Cowley, at Our Lady of Grace Church, Heretaunga.
CWL chaplain Christine Paterson of Wellington and Kathleen Emmerson of Heretaunga, organised the day on behalf of CWL archdiocesan council. Participants were from Wellington and Palmerston North dioceses, including eight members who travelled from New Plymouth and Inglewood Branches, as well as national president Susan Dickson from Methven, Mid-Canterbury.
Entitled 'Living with Gratitude', the day featured three sessions: Women in the Gospel; Women in the Church; Women in the World. Joy Cowley opened with humour, discussion and personal reflection.
'As women of faith in the Catholic Church,' she said, 'we recognise women have given birth to all the Church, beginning with Mary, the mother of our Lord. Every pope and cardinal, every member of a Vatican Council, every priest, has come into being through a woman. We are the life givers of the Church.'
Joy described the vertical straight line of the Cross as depicting men and the horizontal line depicting women. She said 'most men steer towards independence, which is important and the ego supports competition and ambition, therefore vertical. Women on the other hand, steer towards relationship, connection and social growth, which tend to be horizontal.'
Joy spoke about three special 'Women in the World' – St Teresa of Avila, St Teresa of Calcutta and Venerable Suzanne Aubert, who each defied odds to deliver care and an unfailing outreach of faith.
The CWL focus for 2021 is on the At Home Appeal and 'Days for Girls', a worldwide charitable organisation that educates women and girls about sustainable menstrual care and health. CWL council members, spearheaded by local president Susan Lloyd to be more visible and active in the community, have visited secondary and Year 7 and 8 primary schools in the Wellington region as DfG 'ambassadors' with health kits and promoting health care.
The annual CWL Archdiocesan conference next March will be hosted by Kāpiti region at Our Lady of Kāpiti parish complex and will include a debate by Bishop Viard College students about the CWL theme: 'Kia Kaha – Courage Take Heart'.