Ten Year 12 students gathered in July for a three-day retreat focusing on leadership and service based on the style and image of Jesus and St Marcellin Champagnat.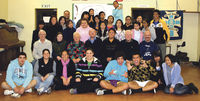 Attendees comprised students from Lower Hutt colleges Sacred Heart and St Bernards, and Marcellin College in Auckland as well as five Marist Brothers, one Marcellin College teacher and seven Lower Hutt leaders (five of whom were students in REMAR in the 1990s).
REMAR, a Marist youth movement which has been operating in NZ since 1990, was re-established in Lower Hutt in 2007 by the current Lower Hutt leaders including Brother Doug Dawick (The Grove), and this was the first combined gathering of REMAR groups since it was last held in Lower Hutt, in 1998.
Current Lower Hutt leaders: Brother Doug Dawick, Gail Ah-Hi, Katrina Hoffman, Karl Vasau, Liz Ah-Hi, Cheri Hoffman and Joshua Hoffman.