Sister Paula Brettkelly RSJ was made a Member of the New Zealand Order of Merit in this year's Queen's Birthday Honours for her services to human rights.
'As a Sister I have the freedom and opportunity to work for the dignity of all individuals,' she says.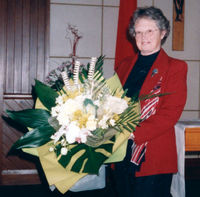 Parishioners of St Theresa's, Plimmerton, celebrated with her at Sunday Mass after the awards were announced. She used the occasion to address youngsters preparing for Confirmation.
'I urge you to accept the rights and responsibilities of confirmed Catholics. Respect yourselves and look after your mates. Insist on fair play for everyone.'
Her personal statement is 'Godde so loved the world that he sent his only son in order that we might have life and have it to the full' (1John 4:9) and living out the mission statement of the Sisters of St Joseph, 'Fullness of life for the earth and its peoples'.
Her social justice actions include working for legal rights for people with HIV/AIDS, the decriminalisation of prostitution and ownership of the foreshore and seabed.
Future projects include the United Nations Declaration on the Rights of Indigenous Peoples, acceptance of religious diversity and care of the elderly.
'I have no personal axe to grind. I have great respect for the process of democracy in Aotearoa New Zealand. I encourage groups to hang in there to earn respect. My great joy is to watch individuals grow.'
Sister Paula Brettkelly has been working for social justice for more than 20 years. Ad multos annos!