There's a sense of anticipation in Room 1 at St James' Catholic School. It's Wednesday, which means the Special Olympians will be visiting, as part of the school's curriculum focus on engaging with the community and learning about difference.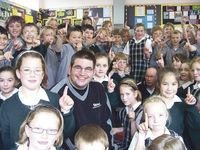 The door opens and Josh Ryan (pictured right) enters beaming. 'Hi Josh!' the class cries, shaking the rafters a little. He and the class have been working on projects that answer questions about the Special Olympics and present them in different forms ('Josh is sporty as!' proclaims one poster). Josh is a ten-pin bowler; he's been competing since 'ages ago!' he says. 'I like getting big scores!'
The class has discovered how the Special Olympics ethos dovetails with St James' own code of SUPER: Self-control, Unity, Perseverance, Enthusiasm and Respect. 'We talked about how the Special Olympians use that in their sports, and how the athletes cooperate with each other,' says Flyn Yates, 9.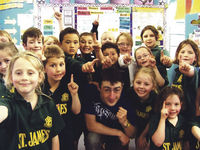 'We've learned the Special Olympics motto,' joins in classmate Emily Marlow, 'and had our own athletics out at the Massey track to find out what it's like.'
Up in Room 3, the Year 5s and 6s have been making movies about the Special Olympics. Inspired by their adopted athlete, Justine Huntingdon, the class has produced a huge body of documentary work. Each one features interviews and facts about the Special Olympics; some even delve into the games' history.
Justine is a former powerlifter with a cabinet full of medals to her name, but she's since moved on to ten-pin bowling. 'It's a bit more interesting,' she explains. That hasn't stopped her showing the class a few tricks of the powerlifting trade, though. Her involvement in class activities and the athletics day has given these kids a new perspective.
'The Special Olympians might look different, but they're stars and can do most of the things we can do,' says one.
Gold-medal-winning runner Ryan Smith (above) is the darling of Room 10. His tale of perseverance in making it out to Massey for the athletics day ('I couldn't get a ride out, so I thought 'stuff it, I'll just walk'!') wins a round of applause.
This is Ryan's third visit, and the kids rattle off all the things they've learned about him, before finishing with a huge chorus: 'He doesn't like gardening!'
'I hate gardening!' he affirms, to gales of laughter.
Ryan competes in the 100m, 200m, long jump, relay and shot put. Getting into athletics was 'the best decision I ever made', he says. He went undefeated in his first season of competition and won his first gold medal at a regional Special Olympics event in his hometown of Blenheim. Since then he's won an impressive medal tally of seven gold, three bronze and two silver across all his events.
The Special Olympics was to take place on December 3 to 5 with Ten-pin bowling and athletics on all three days of competition.
This story was first published in The Guardian in November 2009.