WelCom May 2020: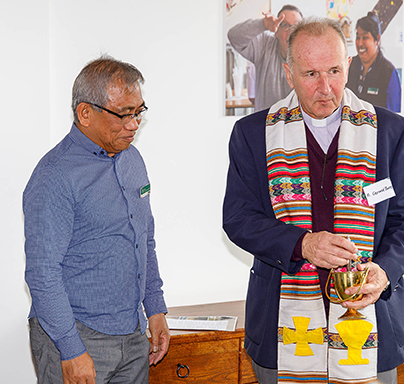 St John of God Karori hosted a community event late last year to celebrate the conclusion of its $2.7m seismic strengthening and refurbishment programme.
Begun in April 2019, the project involved substantial remedial works to the building foundations and several improvements to the building. Along with a dedicated gym and an improved living configuration and working environment, two new respite rooms and two new rooms for permanent residents were also created.
More than 50 family and community members attended, including colleagues from ACC and the CCDHB. Archdiocese Vicar General Mgr Gerard Burns blessing the reopened facility, accompanied by waiata and performances by caregivers and residents.
Resident Ross said, 'It's really great to be back in the renewed spaces – it feels like home again, and all so fresh and nice to be here.'
Northern Regional Manager of Health and Ability Services, Stewart Clark, said the programme represented an important step forward in organisation and coordination of care for people living with a disability. 'The refurbished space provides us with an opportunity to deliver care in smaller teams, operating in closer proximity to resident rooms. Our focus is on supporting residents to live an enriching and fulfilling life. We are all pleased with these results that will help us to better support the people who choose to live with us.'
For more information: www.sjog.org.nz/our-services/health-and-ability-services