WelCom April 2021
Mark Hurley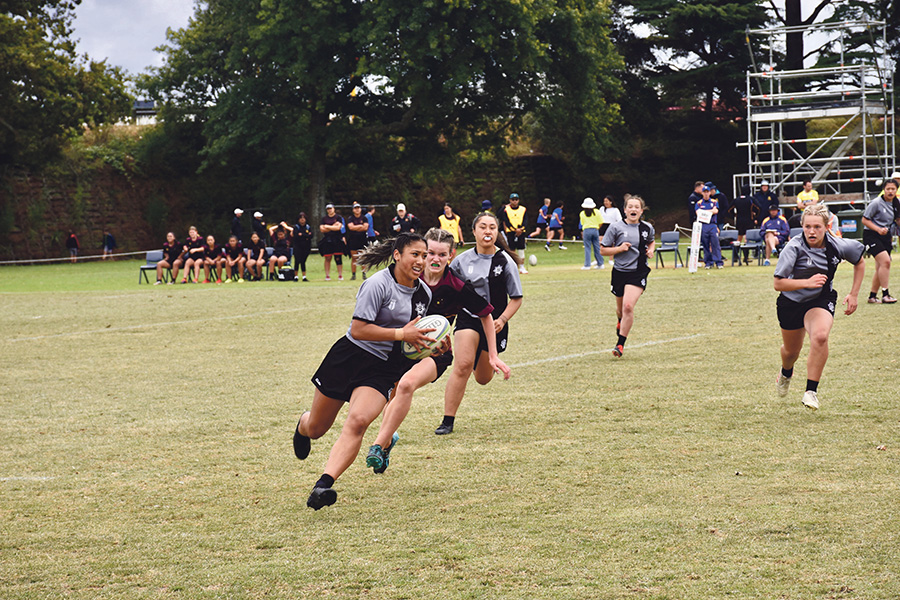 St Mary's College Wellington fielded a senior team and an Under-15 team at the New Zealand Secondary Schools Sevens Nationals (Condors) held in Auckland last December.
The U15 team was undefeated in pool play, then went on to win their quarter final against St Peter's Cambridge 15–7, their semi-final against Howick College 22–19, and then met One Tree Hill College in the final winning 15–12. They were crowned the National U15 Girls Champions for 2020.
St Mary's College is the only Wellington school to have won National 7s titles, the Open in 2016 and now the U15 title.
This outstanding achievement was made possible only by the hard work and training put in by the girls over an intensive eight-week period, a dedicated coaching panel led by Zak Feaunati and Solomon Su'a (both parents), a huge amount of fundraising coordinated by a parent committee, support from our sponsors Alliance Fire and Security as well as Be Humble and Signature Promotions, not to mention all the parental support in all sorts of ways to find the money required to get to the competition.
This result is an outstanding one for the college and has helped cement St Mary's as a major rugby school in the girls' space as well as provide pathways for players to go onto higher honours.
The school is already signed up to defend the title at the 2021 Condors event later in the year.
'Sitting on the bench waiting for the final seconds of the game to end, my heart was thumping out of my chest, just wanting the game to end knowing what the score was. Hearing the hooter go off all of us jumped up and screamed with excitement. At the time I felt speechless and amazed at how well our team played and presented throughout the whole tournament and that thrilling final.'
– Briana
The last play was the most thrilling and exciting moment I have ever felt during my sporting life so far. I was so grateful for the opportunity I got given and playing alongside my teammates made that moment so more memorable.' – Charlotte
Mark Hurley is HOLA, Social Sciences Dean of International Education, St Mary's College.