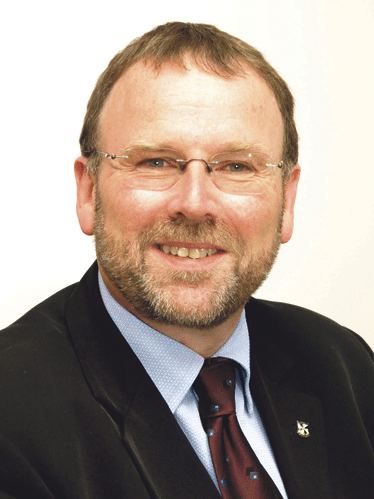 December 2014
Opinion
Michael Noonan
Some pictures of the birth of Jesus have those who are portrayed by the artist prayerfully and attentively gazing at the Christ Child. Others paint Jesus in the arms of Mary. A few – perhaps too few – allow his dad that privilege.
However artists may portray the Nativity, the picture on the bigger canvas is clear: God is appealing to us through this birth and all births, to be appreciative, gentler, and a more loving humanity.
It is wonderful to be present to a family lovingly in awe of their newborn baby. The sense of hope and wonderment is tangible, faces become gentler and softer and often voices are hushed as each family member and friend in turn seeks to hold and to marvel. It is a time when people can be deeply themselves, let down their guard and allow their tenderness to shine through.
The weakness and vulnerability of a baby can call from us all that is best in our humanity – the desire to admire, nurture, protect, and to help the little one on his or her journey through life.
I'm struck by how the response of open-hearted welcome towards a newborn child and the stewardship response of discipleship involve the same part of ourselves. It incorporates a conversion of heart, a turning towards being changed by God. The word 'conversion' has always carried a sense of turning. There is a moment in the journey of the Prodigal Son, when he 'returns to his senses' and sets off on his journey back to his father's house.
That notion of returning to one's senses – becoming more truly who we are – is fundamental in prayer and, therefore, in stewardship. So, also, is the openness to gift – receiving and giving. When you look at the tender interactions of a father and mother with their baby, you see that openness. It's the miracle of weakness – when it touches our heart, it can lead us to God and the goodness within. Stewardship within the context of family involves allowing all that is best in us to be fostered by our children and then, in turn, providing the framework where all that is most beautiful in our children can shine in our world.
In a remarkable way Jesus' birth shows us parents who have eyes to see and ears to hear can, if we allow it, be evangelised by our children. The tragic side of that story is open, undefended hearts are terribly vulnerable and if betrayed, hurt or frustrated, can arm themselves with harshness and violence. When that happens, when we've lost it, we are out of our minds and often out of our senses.
Pope Francis wants to see us transforming our families and our Church. This Christmas, it is a good time to notice the relationships that return us to our senses and put us in touch with the 'revolution of tenderness'.
It's a revolution that can only happen in those depths of our hearts we allow to be touched and warmed.