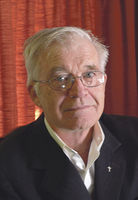 At the time of writing, I have a friend in Taranaki who isn't too well. I had just come back from a trip up north and, with friends, had covered many kilometres. I was looking forward to settling down for a while, but I really needed to visit my friend.
I decided to leave on a Tuesday. But first I had a gathering at the Stewart Centre where I would show the folk there some photos of the trip.
I had put a fair amount of work into the PowerPoint display – text written into the show to jog my memory – not as reliable since the stroke. Though I'd made it fairly simple and it went quite well, I didn't realise how much energy I'd invested – much more than I bargained for, I think.
I was shattered when it was over but I was still off to Taranaki that afternoon. I gathered everything for the trip and sat in the car. I felt like asking – 'are we there yet?' I hadn't even left home.
It was pouring with rain as I headed for the back road to Waipukurau. It's about an hour's travel but it seemed like I'd been going all day. Again the impatient voice but still more than three hours to go! I usually find these trips interesting but not this time. I set the cruise control at 95kph and eventually reached Dannevirke. The voice came back – 'surely we must be there by now'. 'No, we are not even halfway there and it is raining hard.'
The next part of the trip takes us through the Manawatu Gorge. Must remember not to cut any corners! Actually it looks worse than it is because now there's no overtaking at all and this means we travel with the slowest vehicle, in this case, a huge truck and that was good. The gorge is only eight kilometres long so it wasn't long before we reached the other side. I was getting sick of the trip but I had to get there. By the time I got to Feilding I needed some gas.
For some reason I couldn't get the pump to part with more than 20 litres. This annoyed me because pouring gas is a real hassle with one arm so the fewer stops for gas, the better.
With only half the trip complete and a third of the gas I needed, I was all set to park on the side of the road and stay there. But who should appear but a priest friend who was going home from Hato Paora. This made the next little while a whole lot better because we had some great yarns over coffee. The little voice inside was quiet for a bit.
Next was Whanganui – the voice was strident now – surely we are there? I steered the car through the mud and muck of road repairs and when, after several kilometres, it was all clear, I decided to stop for a rest.
In half an hour I was ready for the final leg of the journey. Waverley, yes, we made it that far, Patea, yes and the clouds were lifting, too. Hawera, yes, I can make it through Hawera and then I'm home. I must confess that I had to stop along the way but it was going to be okay.
It was dark by the time I reached Eltham and really dark when I nosed into the driveway at Stratford.
'Are we there yet?' 'Yes, we are, but what a trip!' I think if there were a moral to the story, it would be to do just one job per day!